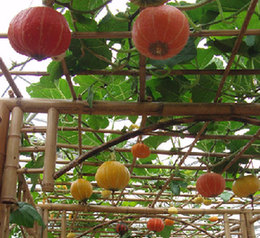 Lettuce growing on water, 150-kilogram pumpkins, two-meter-long cucumbers, tomatoes creeping up pillars, calabashes in all sorts of colors and shapes and watermelons hanging from the ceilings.
These are just some of the amazing sights that can be seen at the Shanghai Urban Vegetable Garden, the city's first organic fruit and vegetable-theme park in Haiwan Town, Fengxian District.
Covering an area of 46.7 hectares, the garden with five green houses features more than 200 types of fruits and vegetables, local or exotic, common and rare.
Urban tourists can try their hand at planting and picking vegetables as well as cooking and tasting what they've harvested.
Stepping into the Versatile and Elegant Farm Garden, visitors will marvel at what science has done for modern agriculture. The 5,000-square-meter greenhouse displays more than 40 types of vegetables.
Most should have been planted in the soil but are now growing on the ceiling, in the water around the pillars or even on the walls.
"These are new agriculture technologies that were developed to raise levels of productivity and to help improve the soil with better management methods," said Chen Linbing, the deputy manager of the urban park.
He noted that the process involved a new way of planting vegetables.
"This not only protects the plants from soil pollution and disease, but also raises levels of productivity per square meter," he added.
A few steps away in the Garden of Exotic Melons and Vegetables, visitors can see, in this 3,888-square-meter garden, more than 100 species of edible, medicinal and ornamental melons in strange shapes and colors.