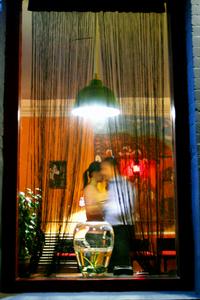 Find a quiet, secluded area in this urban madness, toss in a couple Argentines, a Turkish tango dancer and a handful of bohemian Chinese, and the result is Hidden Dreams.
Tucked into the Social Science Institute compound just east of Yugong Yishan, the bar is a comfortable setting for a tango-themed brasserie. Dozens of potted plants, from the exotic to the ordinary, compose the most alluring part of the cafe's classic decor. Patrons can gaze out the large bay windows over an espresso (15 yuan) or Qingdao (18 yuan).
A wide array of specialty coffees (Irish Coffee is 28 yuan), cliched cocktails (Pink Lady is 30 yuan) and imaginative infusions (Dark Plum is 25 yuan) could reel in almost any palate, as could the sandwich and pasta menu.
Even if not in attendance for the Friday night Argentine tango parties, patrons can enjoy South American melodies throughout the week. The owner says "romantico." We say "romantic."
Hidden Dreams
Tel: 6403-0688
Address: 3 Zhang Zi Zhong Road, Dongcheng