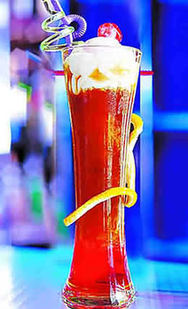 Finding Lugar is a bit like finding Platform 9 3/4 in the world of Harry Potter. Hidden in a dark alley between numbers 70 and 82, behind a closed door, this non-descript storefront has a sense of magic to it.
Taiwanese owner William shows his love for Taiwan and Japan by playing classic pop songs by Faye Wong and Ken Hirai, serving Taiwanese beer (20 yuan) and including 17-year old Hibiki on the fine whisky list. The cocktails, priced at the flat rate of 50 yuan, and mixed drinks topped with bubbly (70 yuan) are a bit costly, as you're merely paying for the smashed ice and the minimalist decor, but Lugar's Lemongrass Special, which tastes like a Mojito without the sugar, is quite special. Behind the large glass window emerges a staircase leading to the rooftop terrace that overlooks the space downstairs.
Lugar might be a place to enjoy the sun by day; by night, number 72 is a quiet hideaway just waiting to be discovered.
Lugar
Tel: 6709-1383 Address: 72 Gulou Dong Daijie
Hours: Daily, 4pm-Late