Tibetan Buddhism was initially a product of the "roof of the world" and initially underscored the cultural, linguistic and spiritual differences between the people of the plateau and their counterparts in China's coastal areas. However, the regional religion began spreading during the Yuan Dynasty (1271-1368) and is now practiced in many other parts of the country.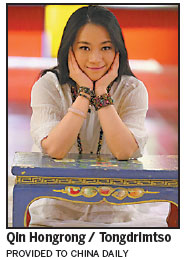 Beijing's long history has resulted in the capital playing a major role in boosting the religion, with thousands of believers memorizing classic scriptures and chanting sutras in the city' monasteries or in their homes.
Qin Hongrong was born into a Han family in the Guangxi Zhuang autonomous region, but she now has a new name, Tongdrimtso, given to her by a "Living Buddha" - an elderly, deeply revered monk - at the Wuming Tibetan Buddhist Institute in Sichuan province.
As a child, the 30-year-old singer-songwriter followed the form of the religion her parents practiced, which originated in China's inland regions and is quite distinct from Tibetan Buddhism, but she never felt a strong connection.
However, she was enchanted by Tibetan Buddism when she visited the institute in Wuming in 2009, while she was a student at the Beijing Contemporary Music Academy. The trip inspired her to incorporate elements of Tibetan culture into her music, and she began learning about Tibetan Buddhism on the institute's website, which provides Chinese versions of the scriptures.
She was advised to read the five classic texts for beginners 100,000 times each, and devised a counting system to help her do so. The task took three years.
Every morning, she burns incense and worships at her home shrine, then soundlessly murmers sutras to herself several times a day. Chanting and praying have become habitual activities and sources of strength in adversity.
"Nowadays, young people are so eager to chase after wealth that they cannot enjoy inner peace. But Tibetan Buddhism is another world: Everything you are bound to have will come sooner or later, as long as you pursue happiness and do good for humans and nature," she said. "Because of my beliefs, I refrain from money and desire, but many of my peers cannot."
She plans to learn and sing Tibetan songs, so she takes language classes and practices at weekends with Tibetan friends.
Embracing ethnic traditions
According to the 2009 book Tibetan Buddhism and Beijing, the religion was introduced to Beijing, then called Dadu, when Kublai Khan founded the Yuan Dynasty. He appointed Phagpa, his former teacher, to oversee affairs in Tibet and its neighboring areas, and the capital's first Tibetan-style monasteries were built.
After the collapse of the Yuan, the Ming (1368-1644) and Qing (1644-1911) Dynasties continued to support the development of Tibetan Buddhism in Tibet and its outlying areas, and a large number of lamas and monks moved to practice in Beijing.
Li Decheng, director of the Religious Research Department at the China Tibetology Research Center, said ancient monasteries remain in cities such as Wuhan in Hubei province and Xi'an in Shaanxi province, but Beijing has always been the leading center for the propagation of the religion because the city embraces many ethnic traditions.
The city was once home to more than 100 Tibetan-style monasteries, although there are now just 54.
Li, who has researched Tibetan Buddhism for more than 20 years, said the Lama Temple, the residence of the Qing Dynasty emperor Yongzheng, has always been a popular place of worship, and at least 70,000 to 80,000 people gather there to pray on Tibetan New Year's Day.
Living Buddhas in Beijing pray for the country or for those affected by natural disasters - the 11th Panchen Lama held a memorial service for the dead and injured after the 2008 earthquake in Wenchuan, Sichuan province, he said.
In many ways, the capital has acted as a bridge that connects Tibetans with people from other ethnic groups, such as the Han woman Tongdrimtso whose performances of Buddhist songs at monasteries have led her to a deeper understanding of Tibetan culture.
"I've been looking for a Tibetan singer to form a new band and compose songs in Tibetan and Mandarin. That way, I can help to promte interaction between both ethnic groups," she said.
Contact the writer at huyongqi@chinadaily.com.cn
huyongqi@chinadaily.com.cn