Zhu Guohua's latest, and proudest, achievement is helping a 71-year-old grandmother climb to the base camp at Qomolangma, the world's highest mountain, known in the West as Mount Everest.
Zhu, leader of a self-drive travel club in Changzhou, Jiangsu province, is currently on a trip to the Tibet autonomous region in the company of 25 fellow travelers in eight cars. The road trip, scheduled to last 23 days, will see the travelers wind their way through Jiangsu, Sichuan province, the Tibet autonomous region and Qinghai province before heading back to Jiangsu.
"I have taken self-drive travelers to visit Tibet more than 10 times. Every time I visit Tibet, I feel something different," Zhu, 40, said. "I'm always impressed by the Buddhist culture, the local people's religious lives and the landscape. Tibet is the best place in the mainland for self-drive travelers."
Statistics from the local tourism authority show that about 5.3 million visits were made to the region from January to June, a rise of 26.7 percent compared with the same period last year, and related revenue exceeded 5.3 billion yuan ($872million).
Self-drive tours are a growing trend and have become a major contributor to China's booming tourism industry. Last year, 2.16 billion tourists took self-drive holidays, accounting for 61 percent of total tourist numbers.
Xu Bin, founder of haixizang, a website that provides information on travel to Tibet, said tourists first started to express an interest in driving to the region in 2010. "Before that, it was more like a challenging adventure, only popular with a few people."
Ctrip, a leading online travel provider in Shanghai, said the number of self-drive tours to Tibet has risen by 80 percent year-on-year, as a result of massive improvements to the highway infrastructure.
Tuniu, also an online travel provider, said it has arranged nearly 300 self-drive tours to Tibet since April 27, and most of the tourists were affluent and aged between 30 and 45.
To cater to the growing trend, the local government has improved the transportation infrastructure and the services provided to self-drive travelers. For example, 3.08 billion yuan has been invested in the construction of the Lhasa-Nyingchi highway. The 409-kilometer road will be the highest freeway in the world when the work is completed in 2017, and the journey time between the two cities will be cut from eight hours to four.
Dai Bin, head of the China Tourism Academy, said the country is ready to develop self-drive tours.
"By 2014, the combined length of the country's high-ways had reached 110,000 kilometers, and in major tourism destinations, including the provinces of Guangdong, Hebei and Shanxi, the road system stretches more than 5,000 kilometers," he said.
"The number of service stations has not only risen, but they now perform a wider range of functions, with many acting as gas stations and shopping centers, and they offer accommodations and catering. Along with new technologies, such as navigational aids, mobile communications and mobile payments, these improvements will support the trend for self-drive vacations," he added.
Xu, of haixizang, was less optimistic. He believes self-drive trips to Tibet will remain a specialized market and will struggle to appeal to the majority of tourists.
"Tibet is still a niche choice in the self-drive market. Driving to Tibet is not only challenging in terms of courage, physical strength and tourism fees, but also in terms of time," he said.
"Although the highways are much better than before, a tour will still take about 20 days, generally speaking. Many people don't have the time, so they'll probably just book week-long trips to Tibet through travel agencies instead."
Contact the writers through suzhou@chinadaily.com.cn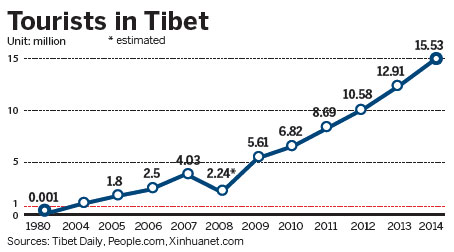 (China Daily 08/14/2015 page6)