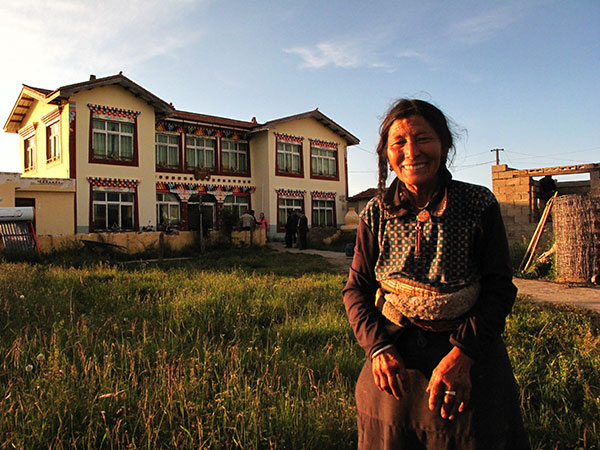 A Tibetan woman stands in front of a two-storied resettlement house in Banyou village, Ruo'ergai county, in the Aba Tibetan and Qiang autonomous prefecture. [Photo by Li Yang/China Daily]
A project to resettle nomadic herders has seen thousands of rural residents abandon their traditional tents and move into new brick and mortar dwellings, as Li Yang reports from the Aba Tibetan and Qiang autonomous prefecture, Sichuan province.
'The tourists only see the blue sky and grassland flowers, but where are they when we are searching for lost yak in heavy rain on the mountains?" said Zamzon, a 62-year-old village leader from the hinterlands of the Aba Tibetan and Qiang autonomous prefecture in Sichuan province.
Three years ago, Zamzon packed up the tent he'd made from yak hair and used for many years on the grassland and moved to a five-bedroom house in Rekun village, Hongyuan county. He has turned the house - which was built with assistance provided by a local government settlement project for nomads - into a family hotel that provides accommodation for tourists.
Zamzon said his children were far away herding yaks in the distant summer pastures. "Chairman Mao gave us the pasture that used to be controlled by the nobility, and now his successors have given us new houses," he said, as he sat in a comfortable guest room.
"I hope my grandchildren will earn their livings with pens not whips. And I'd like to see more tourists, most of whom respect our life and religion deeply. They help to raise our incomes," he said.
It costs from 50 yuan ($8.5) to 100 yuan to rent a room in the house for day. "The settled life gives us more freedom and options. I don't want my offspring to always be busy at the back end of a yak," Zamzon said, holding up a piece of dried yak dung, which the locals use as fuel to heat their homes.
Change of heart
Yuan Youxing, the government official in charge of the resettlement project, said the move had been far more successful than initially anticipated. "It started in 2009 in Hongyuan, and finished in 2012, two years earlier than planned, because many nomads changed their minds when they saw the benefits of settling down."
The local government paid about 20 to 30 percent of the construction costs, depending on each family's financial situation, and provided five-year interest-free loans to cover the remaining expenditure.
It costs about 200,000 yuan to build a four-bedroom, two-story home, but most of the families were able to pay off their loans within two or three years using money they earned from tourism and selling yaks and raw ingredients for herbal medicines.
The settlement project in Aba has benefited 210,000 people from the Tibetan ethnic group. Before 2009, about 60,000 of them were nomads, while the other 150,000 lived in shabby houses built from mud, wood and stone. In the four years that followed, the prefecture's government helped the local people to found 608 new villages in 11 counties. The cost to the government was 2.9 billion yuan, while the local people paid 4.5 billion yuan.
The Tibetans still graze their yaks in the pasture in the summer and autumn, so the government has provided them with 41,500 canvas tents, which are more comfortable than the yak-hair variety, together with nine essential items for maintaining a basic lifestyle, including solar power storage batteries, stoves, folding beds, water containers and cream separators.
In 2012, when the project ended, the average annual per capita income in Aba was 5,770 yuan, a rise of 23.8 percent year-on-year. Last year, the figure had risen to 7,866 yuan, 15.8 percent higher than in 2013.
"The government paid special attention to minimizing the environmental impact of the construction projects. Household refuse is collected every day and processed in the county's waste treatment plant, and all the human waste ends up in the local sewage disposal plant," said Luo Le, the head of Waqie township.
"The grassland's delicate ecosystem meant the government had no option but to build these support facilities even before the houses were finished," he added.