Governance of China vol 2 strikes chord with international gathering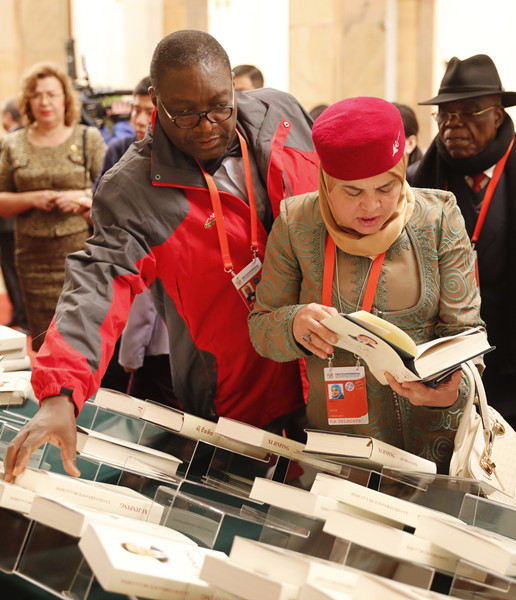 Delegates at a high-level meeting at the Great Hall of the People in Beijing on Friday read during a break the second volume of Xi Jinping: The Governance of China, a book that proved popular at the meeting. FENG YONGBIN/CHINA DAILY
President Xi Jinping's new book on governance gained popularity among delegates from more than 120 countries to a high-level political party dialogue that concluded in Beijing on Sunday.
The second volume of Xi Jinping: The Governance of China was displayed with editions in a variety of languages available for representatives to the CPC in Dialogue with World Political Parties High-Level Meeting. The book was published and went on sale last month.
Mahfuz Ullah, a researcher, writer and environmentalist from Bangladesh, said that after reading the first volume of the book, which he got from the Chinese embassy in Dhaka and found wonderful, he was eager to read the second.
"The way he (Xi) is trying to explain the world's situation, especially given Xi's responsibility to the leadership, the community and the whole political process, that is very important," he said on the sidelines of the meeting.
The 19th National Congress of the CPC was very important because it set a new agenda and direction that is important for the whole world, he said.
"China is trying to make the globalization process more life-oriented, human-oriented and development-oriented," he said.
Marko Duric, vice-president of the Serbian Progressive Party and director of the Kosovo Affairs Office of Serbia, said reading Xi's book is a good way to learn from the CPC's experience and will help other political parties increase their own economic and social achievements.
"I took a look at this book, and I hope I will be able to find a lot of inspiring ideas and examples that we can learn from," he said.
The win-win cooperation China proposes got positive feedback during the meeting, he said.
Salvador Heresi Chicoma, general secretary of Peruvians for Change, said the CPC's newly elected leadership has significance not only for Chinese people, but also the world because the CPC is offering solutions on many global issues.
"It is very important for people in South America to have a book about the experience of the political administration here in China because it is a model whose characteristics are innovation and openness," he said.
Peru underscores the importance of developing relations and a very strong friendship with China, he said.
The book, covering 17 topics, collects 99 of Xi's speeches, conversations, instructions and letters between 2014 and 2017. The first volume was published in September 2014 and received widespread attention and praise from readers at home and abroad.
The new volume depicts the practices of the CPC Central Committee with Xi at the core in uniting and leading the Chinese people to uphold and develop socialism with Chinese characteristics in a new era.

Editor's picks