Fireworks makers adopt new technology to protect workers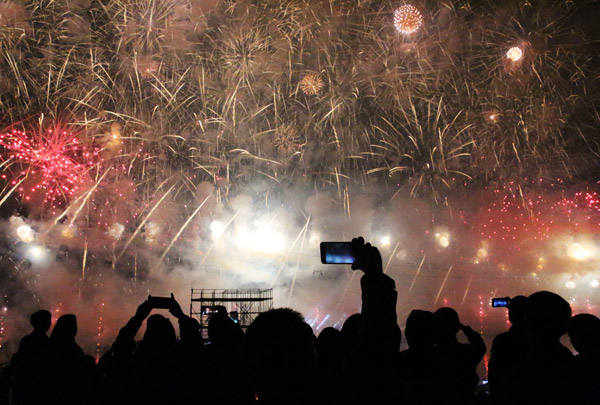 People take photos at an international firework festival which is held every two years in Liuyang, Hunan province. The city is widely regarded as China's fireworks capital. [Photo by Hou Liqiang/China Daily]
Concerns about explosions and health issues have resulted in improved production procedures and stricter supervision, as Hou Liqiang and Feng Zhiwei report from Liuyang, Hunan.
As the government continues to tighten controls on the manufacture of fireworks, companies in the industry are also making efforts to further automate the production process and reduce the risks to employees and the public.
The moves follow a number of high-profile accidents, the latest of which occurred on Sept 22, when seven people - five production line workers, a doorkeeper and a manager - were killed in an explosion at a factory owned by Fenglin Fireworks Export in Pingxiang, Jiangxi province.
There are 2,800 fireworks factories nationwide, according to the China Fireworks and Firecrackers Association. Wu Zhengli, the association's secretary-general, said the industry's annual output value is between 60 billion and 80 billion yuan ($9 billion and $12 billion). Although domestic sales have fallen by 15 to 30 percent - mainly as a result of stricter regulations governing firework use in urban areas - the export value is relevantly stable at about 5 billion yuan a year.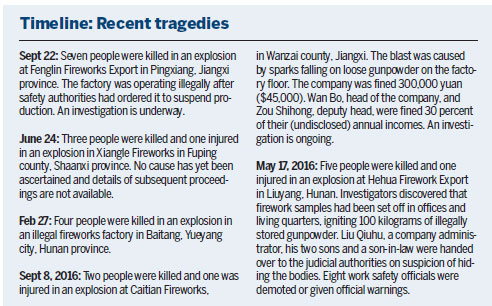 The industry is one of the oldest in China, and dates back more than 1,000 years. While gunpowder, one of the "Four Great Inventions of Ancient China", has been hailed as making a significant contribution to civilization, the use of fireworks has been increasingly criticized because of the risks inherent in production and use, and pollution concerns. Zhong Ziqi, the association's director, said about 1,000 cities have banned or restricted the use of fireworks in recent years.
Although manufacturers are required to obtain new safe-production licenses every three years, industry insiders claim they are becoming increasingly difficult to acquire as a result of more-stringent supervision.
Liu Yan, general manager of Xinghe Fireworks Manufacturing in Pingxiang - which exports products worth more than 70 million yuan a year to 10 countries - said that in the past national safety standards were not enforced rigorously because local governments were committed to economic development. Now, the requirements are being enforced more strictly, and companies commonly invest more than 40 percent of their profits in security measures, she added.


Editor's picks