New species of orchid found on Beijing mountain
An unusual flower found on Yudu Mountain in northwestern Beijing's Yanqing district was identified as a new species of orchid in October.
Mu Xianyun, who found the wild orchid in August, said the international plant journal Phytotaxa published his research on Oct 24. He named the flower Holopogon pekinensis - a reference to Beijing. It is the third species in its family found in China, and one of only seven globally.
Mu, an associate professor at Beijing Forestry University, found the plant by chance when he was surveying for another precious orchid on Yudu Mountain at the end of August.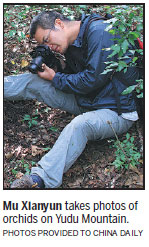 "It was coincidental," Mu said. "I was surveying for Cypripedium shanxiense, a rare orchid I've investigated for years. When I finished the survey I found the little thing in the nearby woods."
"I thought it was a variation of a certain kind of orchid," Mu added. "But later when I examined the photos I had taken, I found I was wrong."
He said he contacted friends at the Chinese Academy of Sciences' Institute of Botany to take detailed pictures for further research.
"The orchid looks like Holopogon ussuriensis, a precious orchid found in Russia. So I emailed Irina Tatarenko, a Russian botanist, to get more information. After comparing its petals and labellum with other orchids, my friends and I concluded that it was a new species."
The flower of the newly found orchid is about 4 to 5 millimeters long, with a width of less than 2 millimeters.
"This orchid has no chlorophyll in its cells nor leaves on its stem, so it is incapable of photosynthesis," Mu said. "Fungi on its rhizome (subterranean stem) in soil offer nutrition, enabling growth."
Luo Yibo, a researcher at the Institute of Botany, said: "Orchids require really specific living conditions, especially wild ones. The whole life cycle of Holopogon pekinensis involves a high-quality ecosystem. It lives on soil bacteria and delivers pollen with the help of insects. Water, light and soil, everything should be good."
Huang Sanxiang, deputy director of the Division of Wildlife Conservation of the Beijing Gardening and Greening Bureau, said: "Holopogon pekinensis is an important addition to the biodiversity of Beijing. Its existence shows that the environment of Beijing is getting better."
Yudu Mountain is a nature reserve in Yanqing, with its core area off-limits and a buffer zone limited to scientific research. Management of the reserve will be reinforced to secure a better habitat for the orchid and other precious species, he said.
"Wild orchids are of great importance for scientific research. We plan to cooperate with the Beijing Municipal Science and Technology Commission to promote the artificial reproduction of the orchids and other precious species," Huang said.
Beijing's list of rare species, including Holopogon pekinensis, is expected to be released at the end of the year to legitimize the protection of rare species found there, he said.