Still premature to say giant pandas originated in Europe: Chinese scientist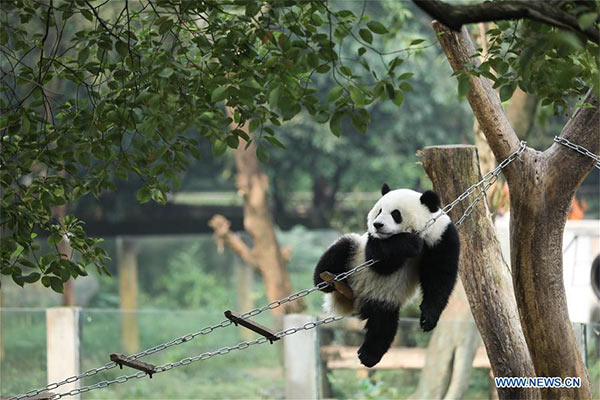 A giant panda relaxes at Chongqing Zoo in Chongqing, Southwest China, Nov 2, 2017. [Photo/Xinhua]
It's normal to discover giant panda fossils outside China and still premature to say that the first ancestors of giant pandas lived in Europe, according to a senior engineer with the Chinese Academy of Sciences.
A team of scientists claimed they had discovered the remains of ancient pandas thought to be more than 10 million years old after locating a set of fossil teeth believed to belong to a previously unknown type of panda at a site in Rudabánya, Hungary, according to a study recently published in Geobios, an international palaeontology journal.
The previously unknown type of panda is not a direct ancestor of the modern panda but more like its "cousin," said Louis de Bonis, an expert at the University of Poitiers in France and a scientist involved in the study.
However, Zhang Jinshuo, a senior engineer with the Institute of Zoology at the Chinese Academy of Sciences, said that it's normal to find giant panda fossils outside China because giant pandas might have lived in many places around the world during the evolution process. He added that the origin of giant pandas couldn't be decided by discovering one or two fossils and that more fossil evidence is needed.
"It's still premature to say giant pandas originated in Europe because older fossils of giant pandas may be found in the future in other places," said Zhang.
The debate about the origin of giant pandas has a long history. The first discovery of giant panda fossils dates back to the 1940s, when scientists found the fossilized teeth of giant pandas believed to be about 7 million years old in Hungary in 1942, reported Beijing News Wednesday.
This was followed by a series of discoveries of even older fossils by Chinese scientists, until the discovery of 8-million-year old fossils of giant pandas in the southwestern Chinese province of Yunnan in the 1980s temporarily ended the debate and gave the Chinese origin theory an upper hand.
However, the European origin theory seemingly began taking over again when paleontologists found even older fossils in Spain in 2015 and later on unearthed this 10- million-year-old specimen in 2017 in Hungary.