How father's accident changed 13-year-old girl's life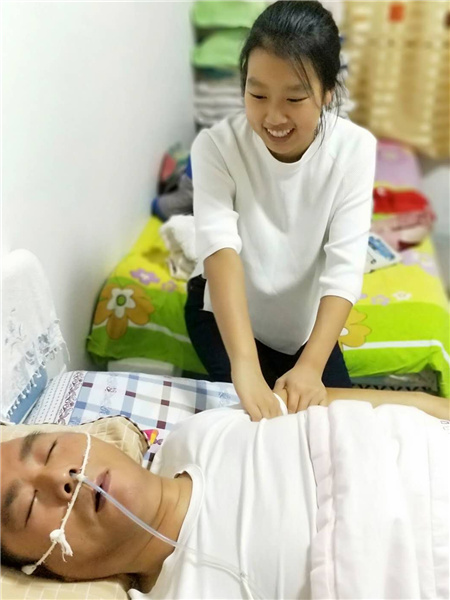 Ma Xinyang takes care of her father. [Photo provided to chinadaily.com.cn] 
Every day, Ma Xinyang gets up at 5 in the morning.
After cooking a well-prepared breakfast, she feeds her father through tube before going to school.
Ma, 13, a second-year junior high school student in Wudalianchi No 2 Middle School, Heilongjiang province, began to take care of her father Ma Zhenlong after he suffered a serious traffic accident three years ago.
"My father stayed in hospital for seven months," said the girl. "Fortunately, his life was saved, but the doctor told my mother and me that he would remain in a vegetative state unless there was a miracle."
"We believe there will be a miracle," she added firmly.
The accident changed the life of the whole family.
The parents' beloved daughter grew up overnight.
"I was clear that I could no longer be a flower in the greenhouse. I should help my mother who carries the heavy burden of my family," she said.
She learned to cook, tidy the room and wash clothes.
She also picked up some nursing skills from the doctors and nurses when her father was in hospital.
"My daughter provides me great help and support," said Wang Changrong, the girl's mother. "Her father is in good condition even though he hasn't regained consciousness. His face is glowing and his weight has risen from 60 kilograms to 80 after leaving hospital."
All the extra work, however, has not disrupted the girl's studies. She continues to rank top in her grade.
"My father will be unhappy if I neglected my studies because of him," she said. "Therefore I have to double my efforts to get good results, which will be the best present for him."
Whenever she has some spare time, she shares some stories of her school with her father or reads to him.
"I like to read the stories my father read to me when I was a little girl, as they remind me of the happy memories of the past. I believe the days will be back soon." No matter how hard the life is, she keeps the smile on her face.
In the end of October, Ma was awarded the title of "Most Beautiful Filial Piety Juvenile" by a public service activity hosted by CCTV.
She is the only one to have won the honor in the province.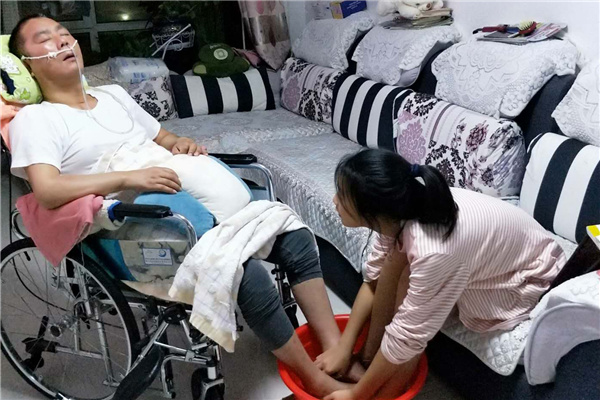 Ma washes feet for her father. [Phot provided to chinadaily.com.cn]

Editor's picks