Lancet restaurant gives medical professionals food for thought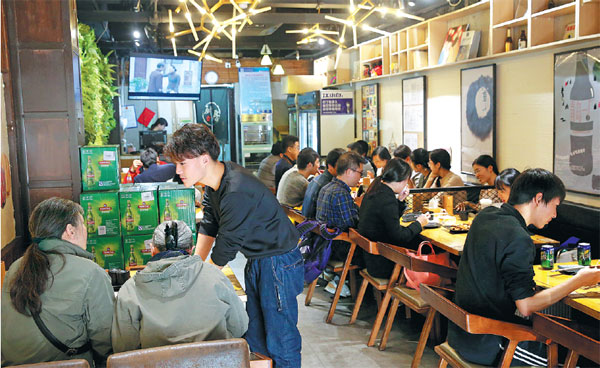 Customers eat lunch at the Lancet Barbecue, which gives discounts to people who have had papers published in academic journals.Wang Zhuangfei / China Daily
A barbecue outlet in Beijing has become a favorite dining place for the capital's scientific fraternity, as Li Hongyang reports.
When Feng Shangqing published a paper in a scientific journal, she was simply hoping it would prove beneficial to her medical career. She certainly didn't imagine that the article would provide her with a discounted treat at a barbecue restaurant in Beijing.
The physician, who graduated from Fourth Military Medical University in Xi'an, Shaanxi province, was given a discount of 84 yuan ($12.67) at a barbecue restaurant that is popular with medical professionals as a result of the paper's "impact factor" - a measure of the frequency with which articles are cited in a particular year. The 84 yuan discount was a multiple of the paper's impact factor of 8.4, which is considered a good score.
Under the rules of the restaurant, scientists, medical professionals and social scientists are eligible for a discount if they have recently published papers in journals that are included on internet databases such as the Science Citation Index and the Social Sciences Citation Index.
The paper's impact factor is multiplied by 10 to determine the discount, which can account for as much as 30 percent of the bill.
Paper promotion
"I love barbecue, and often ate it with my classmates while at medical school. It was very enjoyable to share our joys and troubles while eating barbecue and drinking beer. There were many barbecue stalls on the streets outside our school and we used what is known as the lu chuan method (a way of eating kebabs straight from the skewer)," Feng said.
"As soon as I saw the restaurant's promotional material on WeChat, I decided to visit and use my paper to try the food."
Since the promotion began on September 21, hundreds of customers have visited the eatery - called Liuyedao, the Chinese name of The Lancet, one of the world's leading general medical journals - near Beijing Jiaotong University in Haidian district.
The restaurant covers just 90 square meters, so there is only room for 12 tables. Because there are no windows, the room is illuminated by warm yellow lights and decorated with bright green plastic plants.
During the "rush hour", customers often wait for an hour to be seated and served, and one out of every four diners is likely to have had a paper published in the world's top academic journals.