Xinjiang's GDP growth beats the national average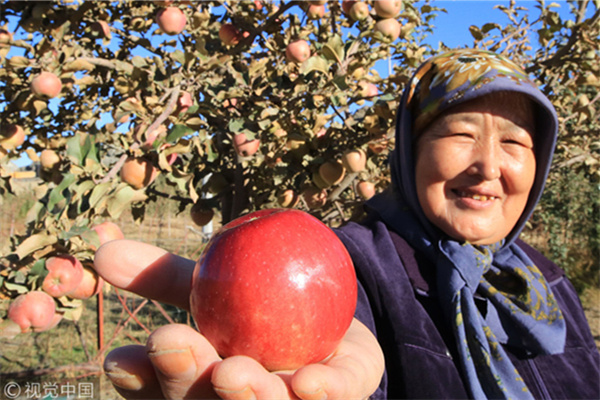 A farmer shows an apple she grows in a field at Dashitou village in Hami, Xinjiang Uygur autonomous region. [Photo/VCG]
The Xinjiang Uygur autonomous region has seen rapid growth in its economy and will continue to increase the construction of new infrastructure, senior officials said.
Shokrat Zakir, chairman of the regional government, said Xinjiang's GDP increased by 7.2 percent year-on-year in the first half of 2017, higher than the national level of 6.9 percent.
Investment in fixed assets, a major gauge of economic vitality, saw a year-on-year rise of 27.8 percent during the period, the highest in the nation, he said, adding that the region's fiscal revenue in the six months was 29.4 percent higher than that in 2016.
This year alone, more than 50,000 companies have been established or set up branches in Xinjiang.
Moreover, the local tourism industry is embracing a flood of visitors-the number of travelers to Xinjiang from January to July rose by more than 30 percent compared with the same period last year, according to Shokrat Zakir.
The official said that governments in Xinjiang use more than 70 percent of their annual fiscal budgets and financial support from wealthy provinces to fund public sectors and projects boosting employment and education.
They have also made efforts to build new infrastructure in transportation, water conservancy, power generation and communications.
The disclosures came as he spoke on Thursday afternoon at a meeting of the Xinjiang delegation to the 19th CPC National Congress in Beijing.
Sharhat Ahan, a senior official in the regional Party committee, said at the meeting that Xinjiang is taking advantage of its status as the "core zone" of the Silk Road Economic Belt, which will link China with Europe through Central and Western Asia, and has been constructing facilities to foster connectivity with neighboring countries.
The Silk Road Economic Belt and the 21st Century Maritime Silk Road, which stretches from southern China to Southeast Asia, and even to Africa, form the Belt and Road Initiative.
The grand plan was proposed by President Xi Jinping in 2013 and is estimated to benefit about 4.4 billion people in 65 nations.
Xinjiang has planned to open more cargo train service linking Urumqi and cities in Central Asia and Europe, he said, adding Urumqi has started building an international logistics service center.
Xinjiang will also put more investment in the medical services industry to attract overseas patients.

Editor's picks