Easing on hold as outlook improves
Forecast: GDP expected to continue rising at 6.9% in second half of year
Positive expectations for China's economic growth in the second half of the year have consolidated the central bank's determination to refrain from monetary easing, but prevention of risk will be a priority.
GDP growth, which was 6.9 percent in the first six months, is expected to continue at the same pace in the second half, as recent data show a strengthening trend, Zhou Xiaochuan, the central bank governor, said over the weekend at the G20 Finance Ministers and Central Bank Governors' Meeting in Washington, DC.
China will continue to pursue a proactive fiscal policy and a prudent monetary policy, while encouraging deleveraging and preventing potential risks, according to Zhou, who warned that shadow banking and housing market bubbles could increase vulnerability.
"Growth continues to improve in terms of structure and quality, indicating that China has made strong progress in rebalancing the economy," said Zhou, who stressed that the financial regulator's battle to lower the debt burden had shown some results but was still in the "early stages".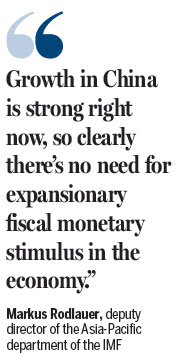 The country's broad money supply, or M2, rose 9.2 percent in September from a year earlier, its fifth straight month with growth below 10 percent, slightly up from 8.9 percent in August, according to data released by the People's Bank of China on Saturday.
The single-digit M2 growth rate, much lower than the annually targeted 13 percent, is a result of the regulatory clampdown launched earlier this year to curb interbank lending or "shadow banking" activities, said Wen Bin, chief researcher at China Minsheng Bank.
According to the China Banking Regulatory Commission, as of the end of August interbank assets had fallen by 13.8 percent year-on-year. Interbank wealth management products, a main source of off-balance-sheet fundraising, fell by 2.2 trillion yuan ($334.4 billion) from January to August.
"Shadow banking appears likely to continue to face greater regulatory scrutiny, at lease while the authorities remain comfortable with economic growth," said Katie Chen, financial institutions director at Fitch Ratings.
As of last month, yuan-denominated new loans rose by 13.1 percent from a year earlier, down by 0.1 percentage points in August, the PBOC said. New loans have increased by 11.16 trillion yuan in the first three quarters, up by 998 billion yuan from a year earlier. Nearly half the amount was borrowed by households.
Short-term loans saw rapid expansion, accounting for 14 percent of the total number of new loans, compared with 5 percent a year earlier, but some funds may be flowing into the housing market through illegal channels, creating a risk of a price bubble, Wen said.
Markus Rodlauer, deputy director of the Asia-Pacific department of the International Monetary Fund, said at the fund's annual meeting on Saturday: "Growth in China is strong right now, so clearly there's no need for expansionary fiscal monetary stimulus in the economy."
The high level of corporate debt is a key issue for China, requiring the country to further push reform of State-owned enterprises in the next few years to ensure successful economic rebalancing, while allowing the economy to continue to grow relatively fast, Rodlauer said.

Editor's picks