Career success leads to selection
Jiang Yan doesn't stand out from the crowd of tens of thousands of blue collar workers in the northeastern industrial hub of Shenyang-home to major petrochemical, machinery, traffic equipment and tool factories-except for adornments like the pearl stud earrings she wears to work.
Jiang, 44, is the deputy chief engineer at the design institute of Shenyang Blower Works Group Corp in Liaoning province.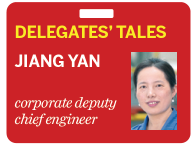 She became a delegate of the 19th National Congress of the Communist Party of China due to her achievements and contributions to the design of China's first large-scale ethylene compressor.
Born in 1973, she graduated with a bachelor's degree from Shenyang University of Chemical Technology in 1997 and joined the SBW Group.
The timing couldn't have been better. It was the beginning of China's economic boom and there was a huge demand for ethylene, a key component of plastics and one of most used chemical products in the world. It accounts for more than 70 percent of petrochemical products.
But at the time only a few companies, from the United States and Germany, could produce the heavy equipment used to process ethylene. "This meant costly and long delivery times for domestic companies. It was a huge chance and a huge challenge for us," recalled Liu Shengming, SBW's publicity department manager.
Jiang found her place in designing the equipment domestically. She seized all opportunities to learn from senior engineers and international counterparts.
"Her understanding of theories might not have been the best in the class, but she was definitely the most hardworking student," one of her college instructors recalled.
After three years, in 2000, she successfully designed the country's first compressor capable of producing 1 million metric tons of ethylene a year.
This helped SBW win a package of petrochemical projects in Beijing; Wuhan, Hubei province; and Zhenhai, Zhejiang province.
"This not only gained the company economic success but also made a significant contribution to China's economic security," said Li Kai, a professor at Northeastern University's School of Economics and Management in Shenyang. "Jiang is a valuable national asset."
Jiang then became a model for the company and city and was praised as the representative of the spirit of craftsmanship.
Despite the honor, Jiang remains humble. She always reminds herself to maintain a realistic, down-to-earth attitude.
"I'm not a smart person," she said. "So I always work hard and respect my duty."
Public records show that SBW serves nearly all domestic petrochemical enterprises and has branched into the international market in Iran, Uzbekistan and Kazakhstan.

Editor's picks