Preserving forest pays dividends for northern city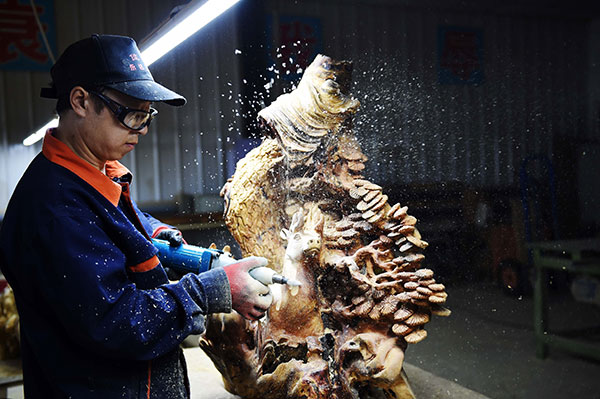 A worker carves wood from naturally aged, fallen Korean pines in Yichun, Heilongjiang province, in May. The wood, once used mainly for firewood, is playing an important new role in the local economy. [Photo/Xinhua]
Surrounded by a forest in Heilongjiang province, the city of Yichun has seen its economy revive in the first half of the year, aided by sustainable utilization of the forest and clean industrial production, which is helping the city stay green.
In the first six months of the year, Yichun's GDP surpassed 9 billion yuan ($1.4 billion), an increase of 6.2 percent year-on-year, according to the Heilongjiang provincial statistics bureau.
Mayor Han Ku said the city will better utilize its vast forest by processing products from within it, rather than cutting down the trees.
"Growing, collecting and processing products in the forest have grown into promising industries," he said.
The city has built more than 260 centers for growing blueberries and black fungus, and breeding free-range chickens and pigs inside the forest, the mayor said.
In addition, the city has created industrial zones to nurture small and medium-sized enterprises in processing the products, including extraction of anthocyanins-a type of flavonoid with antioxidant effects-from the blueberries.
"More investment has flooded in because of the promising future," said Lin Xuezheng, chief technician of Youhao Blueberry Plantation, adding that more people have come back to work in their hometown.
In Yichun, the large blueberry plantations have expanded to cover a total of 4,400 hectares and represent a major plant base for the country, the city government said.
The city has also paid more attention to making industrial production environmentally friendly.
Yichun Luming Mining Co, the largest company in the city, managed to recycle all its waste and cut emissions of dust with advanced technologies in a bid to protect the environment from their mining and processing activities, a statement from the company said.
Xiu Dawei, deputy manager of the ore processing plant, said computer controls reduce pollutants and make the mine cleaner.
Yichun has abundant mineral resources, such as the molybdenum minerals that Luming processes, as well as gold and uranium ores, with a total potential value reaching 150 billion yuan, data from the city government showed.
"No matter what the industry is, our principle is that the environment must be protected," said Han, the mayor.

Editor's picks