7 fined for chasing protected antelope
Seven people were fined 105,000 yuan ($15,830) for chasing Tibetan antelope in a nature reserve in the Tibet autonomous region, the local forestry department said on Sunday.
At 5:20 pm on Wednesday, a group of seven tourists in two SUVs drove off a public road and into the Siling Co Nature Reserve in Nagchu prefecture, said Deng Zhonghua of Lhasa's public security bureau.
The reserve, covering 18,936 square kilometers including Serlingtso Lake, is the world's largest habitat for black-necked cranes. The reserve is also home to about 30,000 Tibetan antelope, a first-class State-protected species.
The tourists saw a herd of antelope while driving along the road in Shanza county and drove after the animals for about a minute to take pictures, Deng said.
A netizen using the screen name "Cacaliyizhi" posted images on Sina Weibo of two white vehicles pursuing a running herd. The chase led to the death of several animals, according to the netizen. The incident was reported to the police at 2 pm on Friday.
The message triggered public anger and was forwarded by netizens via social media.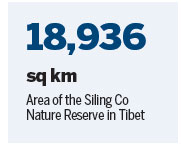 The post by Cacaliyizhi had been deleted. The netizen said in a new post on Saturday that the pictures were taken by one of his Tibetan friends.
The police tracked down the group in the vehicles at 5 pm on Friday, and handed the case over to the local forestry department.
Deng declined to provide more details about the drivers and passengers, adding only that the license plates "show one vehicle is from Shanghai, and the other is from Jiangsu province".
Each person was fined 10,000 yuan for breaking the Wild Animal Conservation Law and 5,000 yuan for breaking nature reserve regulations. The person in charge of the area was disqualified for the annual excellence assessment and will not receive an allowance for three months.
Tashi Dorje, an official in the local forestry department, said frightened antelope running at top speed could suffer heart and lung failure.
"There were no animals crushed, according to our investigation. No injured or dead antelope were found during checks of the area on Friday and Saturday," Tashi Dorje said.
Zhang Yi contributed to this story.

Editor's picks