Deliveryman trades his takeout for textbooks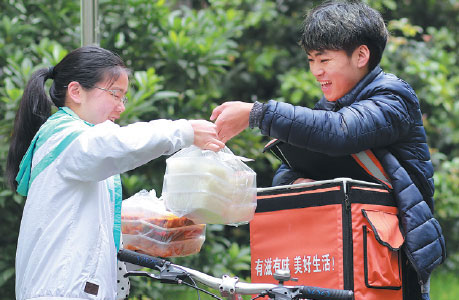 Mao Zhaomu delivers food near Sichuan International Studies University in Chongqing.Photos By Su Zhigang / For China Daily
A deliveryman who has become an online celebrity for sending his customers messages in English will soon have more opportunities to use the language.
Mao Zhaomu was a deliveryman in Southwest China's Chongqing municipality. Recently he returned to Sichuan International Studies University, where he used to deliver food to students, but this time with a different purpose: to register as a new student. He plans to major in English.
Mao, 18, was in his first year of high school when he dropped out in March last year.
"I liked English, but my scores in other subjects were not good," he said. "I thought it was unlikely that I would go to college. So I decided to work and help my family."
He changed jobs several times, from hairdresser to bartender to home decorator.
"I didn't like these jobs," he said. "But I didn't receive much education, which prevented me from getting a better job."
During that time, Mao made up his mind about one thing: to continue his studies and go to college.
"My English teacher in middle school entered university through an entrance exam for self-taught adults," he said. "He encouraged me to do the same."
Most Chinese students enter universities through the gaokao, the national college entrance exam. However, for those who have not finished secondary school, a self-taught higher education exam was introduced in 1981 as an alternative route.
Mao began delivering food at the beginning of this year, working near the Chongqing university, and studied English at the same time.
"While I was waiting for a customer to pick up a meal, I could memorize several English words," Mao said.
To seize every chance to practice English, he began sending English text messages in March. "Hello, your phone was power off when I called you. Your meal have been put by me on the vending machine," he would write.
There were grammatical mistakes, but that didn't prevent him from trying.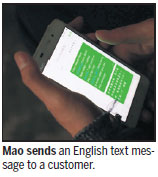 "I thought that students at the university must be good at English, so I wanted to practice," Mao said.
On China's Sina Weibo, social media users praised Mao's efforts. "This is so inspirational," said one user nicknamed Kanchairen. "Whoever has a dream and dares to pursue it is the loveliest person."
Some students, like Huang Lanhong, a freshman at the university, ordered takeout food from the restaurant where Mao worked just so they could meet him.
"I think we should learn from him," Huang said.
Teachers and students gave him books. Mao recalled that once a postgraduate student gave him an English dictionary, which he put into the takeaway box.
"When I arrived home, I found the book was stained with grease. I felt so sorry for the student who gave it to me," he said.
A teacher from Shanghai, known only as Kevin, contacted Mao and taught him online. He also sent him BBC audio clips for him to translate.
The efforts paid off. In August Mao received a letter of admission from the College of Continuing Education at SISU.
Mao has quit his job as a deliveryman. "Next time I enter the university it will be as a student," he said.
He plans to get a master's degree and become an interpreter.
According to a China Newsweek report, by the end of last year, more than 500 people who had worked as security guards at Peking University had gone on to receive a university education, including 12 who earned master's degrees. Some of them have become teachers and even opened schools.
"If people from everywhere in China could have a way of changing their situations by working hard, if different groups could exchange and help each other as equals, the inner desire for improvement could be awakened in more people," said Beijing Youth Daily said in an editorial.
Xinhua