Japanese media star fights against anti-China bias
For the past 45 years, since Beijing and Tokyo normalized relations, Yasuhiro Tase, a leading Japanese media professional, has always sought to bolster the often-fraught ties.
On Oct 8, 1944, Tase, son of a Japanese medical-corps solider, was born in Heihe in Northeast China's Heilongjiang province. The city, which borders Russia, was part of a Japanese puppet state known as Manchukuo, in the area of Manchuria, at that time.
In April 1945, the corps to which Tase's father belonged to suddenly retreated to Japan to prepare for a "decisive battle" with the United States on Japanese soil. Tase's mother learnt about it from others after her husband left home.
"My mother carried me on her back and walked to China's border with Korea, and then got on a ship to Japan," Tase recalled in an interview with China Daily before the 45th anniversary of the normalization of bilateral ties, which fell on Sept 29.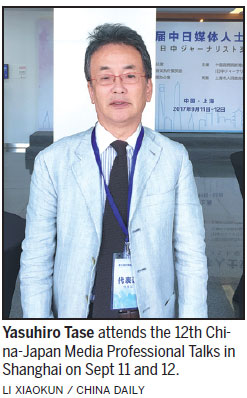 "It was a long and arduous trip. She had no food, and could not breast-feed me due to malnutrition. Fortunately many Chinese people, mainly local peasants, fed us. Some let us spend the night at their home. Without them I would not have survived."
Tase said his father did not go on the battlefield in China and did not kill Chinese people.
"However, he was in China as a Japanese soldier. So, I still feel regret for the Chinese.
"Besides, my mother kept telling me how the Chinese helped us. So I felt obliged to do something for Japan-China ties. It is like my fate."
"Always keep in touch."
When studying at Waseda University, Tase participated in a speech contest among Japanese universities. The theme of his speech was the importance of building good ties with China.
After graduation, Tase joined the Nihon Keizai Shimbun, a major Japanese newspaper, as a political reporter. He stayed there for 45 years and was Washington bureau chief. Later, he became an independent media professional on political issues.
"I have been working for the media since the normalization of Japan-China relations and have exerted my efforts in the field to promote the ties."
As a famous media figure, Tase has been in delegations of Japanese politicians on their China visits, and met many Chinese leaders.
"When I came with Kiichi Miyazawa on a China visit, before he became prime minister in 1991, a former Chinese leader showed me how to peel a lychee. As I was leaving Beijing, he had somebody send some lychee to the train. I have kept the scene firmly in my mind."
Tase is on familiar terms with many Chinese diplomats, such as Wu Dawei and Foreign Minister Wang Yi, both former Chinese ambassadors to Japan. He also made friends with many Chinese scholars and students when he stayed at Harvard University and taught at Waseda University from 2006-10.
"I have promised many Chinese friends that no matter how bilateral relations change, we will keep in touch."
Neutral reports on China
"When I was young, I never thought about writing negative reports about China. At that time, about 80 percent of Japanese people liked China, but things are totally different nowadays," Tase said.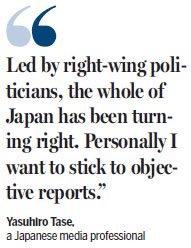 He said the change is linked to the state of Japanese politics.
"Led by right-wing politicians, the whole of Japan has been turning right. Personally I want to stick to objective reports. But as the whole society is turning right, that makes me look leftist."
Tase believed the negative emotions against China are also partially due to biased reports in the Japanese media. "There is a big problem with the Japanese media's reports on China."
He recalled that about five years ago, when anti-Japan protests broke out in major Chinese cities due to Japan's "nationalization" of the Diaoyu Islands in September 2012, Japanese TV channels were full of scenes such as angry Chinese citizens smashing Japanese-brand cars, which were isolated cases in China.
"The footage shocked the Japanese. I was working for a TV station and sent a cameraman to Beijing to take such pictures. But after his arrival the cameraman called me, saying 'Mr. Tase, I can't find such scenes here. Can you tell me where to film the scene'?"
Five years on, during business trips around Japan, Tase saw many Chinese tourists.
"At first I thought they were here for shopping, but after talking I found many Chinese visitors go to places that even Japanese people do not know about. They like Japan very much and found the places on the internet. That was an important discovery."
However, he found that there are not many Japanese tourists going to major Chinese cities such as Beijing and Shanghai.
"Why is that? Is there something wrong with the Japanese media's reports on China?"
He said China's development was very quick in terms of innovation and Japan can learn a lot from China. But Japanese media reports on China still focus on the negatives, such as air pollution. "Against such a background, it is not surprising to see a limited number of visitors," he said.
A new mission
However, in July Tase was deeply impressed and encouraged by communication and exchanges involving the younger generation.
"I attended a concert of a popular Japanese rock band Radwimps in Shanghai. About 8,000 Chinese young people were there. It was unbelievable. The Chinese youngsters did not speak Japanese, but they all sang in Japanese with the band.
"After the concert, I saw many young people who could not get in, waiting outside, as they failed to get tickets. I realized that as times change, relations between the two governments are no longer that important. In such events, hearts of the two people are closely bonded."
In frequent visits to China, Tase found that South Korean music is very popular here. "It is a regret that not many people listen to Japanese music. Vice-versa, it is hard to hear Chinese music in Japan.
"My mission for the rest of my life will be introducing music of the two countries to each other and to forge another platform for communication between the two nations," said Tase, who is also a singer and music producer.