Innovative National Day events have youth appeal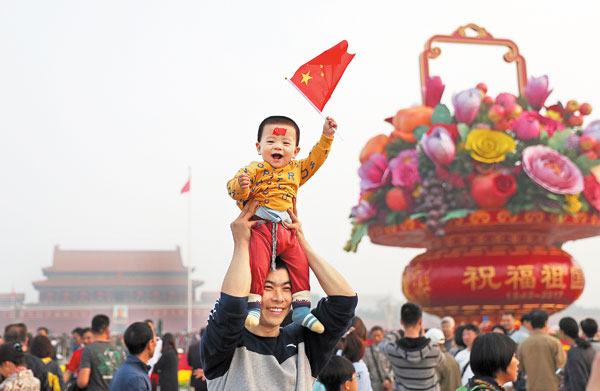 A young, enthusiastic visitor joins the crowd on National Day in Tian'anmen Square in Beijing on Sunday. Zou Hong / China Daily
From athletics and music to social media, new twists are drawing a response
Innovative ways of celebrating the National Day holiday this year — including use of new media — have drawn enthusiastic reviews, especially among the young.
Sunday was the 68th anniversary of the founding of the People's Republic of China. Fudan University in Shanghai marked it with a school run.
"It is a very special and meaningful way of celebrating. Nowadays young people need a positive life attitude to strive for their dreams," said Mao Jianjiang, a teacher at the School of Chemistry, who took first place.
Modern technology is being used in many ways. On the WeChat social messaging app, some public accounts provide features that allow subscribers to write their wishes and have an electronic ink painting automatically made to match. The painting, with the subscriber's handwriting, can be shared in the Moments section.
China Central Television's business channel offered an online wish map. By scanning a QR code, users can create a heart on a map of China. The system will show the user's rank and the rank of provinces with the greatest number of wishes.
Tencent's QQ Music, a streaming and download service, posted an online album with a collection of 18 popular patriotic songs.
"I listened to the album early this morning. All the songs are sung by popular singers and some are theme songs of hit TV shows, which are very familiar to us," said Li Jiehao, 22, a senior at Kunming Medical College in Yunnan province.
"Patriotic songs used to appeal only to older people, like my grandparents. But now things are changing. The rhythm and lyrics are changing with the times and become closer to our daily lives," he said.
Holiday warmup activities started in September in many cities, encouraging college students to build a positive attitude through music and sports.
In the past two weeks, over 42,000 students from 10 universities joined in a national run event.
Peking University participants ran a total of 1,606 kilometers to take the top spot, according to the QQ Music run competition public account.
Media platforms provided livestreaming of Sunday events from the morning flag-raising at Tian'anmen Square to light shows staged in more than 30 cities.
On Saturday, President Xi Jinping and other senior leaders paid tribute and laid floral baskets to the Monument to the People's Heroes at Tian'anmen Square.
The event was to mark the country's fourth Martyrs' Day.
The leaders also attended a reception marking National Day on Saturday with 1,200 people from home and abroad.