Alibaba leads the fight against counterfeit goods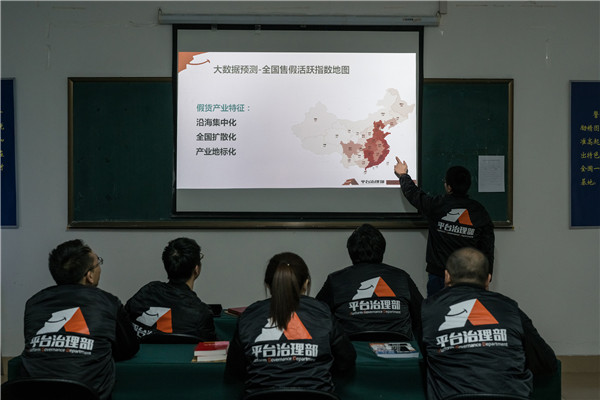 Members of Alibaba's Anti-Counterfeiting Task Force discuss the geographical distribution of fake goods during a briefing session. [Photo by Zhou Gangfeng/For China Daily]
Team members face many risks in their offline probes.
"Most counterfeiting dens are hidden and well-organized. For example, we encountered a village producing counterfeits. The villagers had installed cameras everywhere and when they saw outsiders entering, they became more vigilant and even threatened us," Qin recalled.
Alibaba's cooperation with local authorities to locate sources of counterfeit goods has proved effective. The company has partnerships with public security bureaus in 13 provinces. Last year, Alibaba submitted 1,184 leads to law-enforcement agencies, which helped public security bureaus arrest 880 suspects and assisted in the closure of 1,419 counterfeit manufacturing locations. In all, the operations seized merchandise worth more than 3 billion yuan.
In August, with evidence from Alibaba, police in Loudi, Hunan province, broke up a ring that produced and sold counterfeit weight-loss drugs.
With a sales network in more than 20 provinces, the ring's total trade exceeded 100 million yuan.
In the eyes of Sun Jungong, Alibaba's vice-president, spot-checks and data-driven proactive monitoring protect the platform's good shopping environment, while cooperation with law-enforcement agencies is part of effective collaborative governance.
"We hope to take advantage of Alibaba's big data and strong data-mining capabilities. By expanding offline cooperation, we aim to tackle this issue at its source," Sun said.
Wang Xin, a professor at Peking University's Law School, said the rapid development of China's e-commerce platforms and the emergence of new online shopping models have provided a growing number of sales channels for fake goods.
He noted that China has made great efforts in recent years to stamp out infringements of intellectual property rights by strengthening laws and setting up specialist IPR courts.
However, he conceded that the penalties for counterfeit producers and vendors are not an effective deterrent because many producers of counterfeit goods only receive suspended sentences or fines.
He suggested that repeat offenders should be banned from the credit market.
Alibaba's analysis has also established that some online consumers are happy to purchase counterfeits knowingly.
Sun said raising awareness among consumers is essential in the battle against fakes.
"Everyone can do their bit to stop counterfeit goods. If society reaches a consensus, as with drink-driving, we are more likely to tackle this problem effectively," he said.