Female elephant arrives in Harbin from Africa for date with mate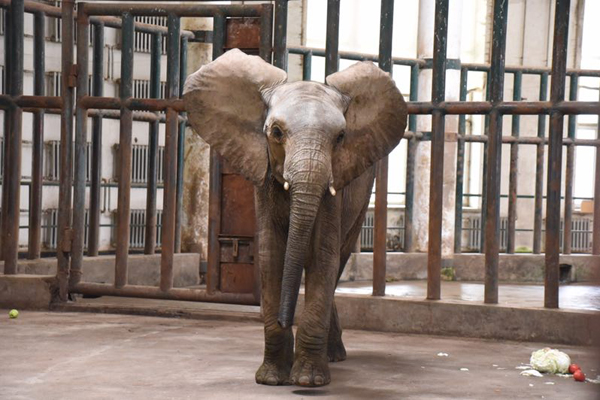 An 8-year-old female African elephant Bella arrives in Harbin from Zimbabwe on Wednesday. [Photo by Liu Xiaomi/for China Daily]
A new member from far afield Africa was welcomed by Harbin Northern Forest Zoo on Wednesday.
Bella, an 8-year-old female African elephant, was selected to have a blind date with a male elephant Doudou in the zoo.
About one month ago, the zoo took out ad for Doudou, a 9-year-old single African male.
However, the zoo found it difficult to find any perfect match in domestic zoos, especially an age-appropriate and healthy female one.
After failing to get a suitable candidate at home, the zoo expanded the target range to the elephant's hometown.
Thanks to zoo's efforts, Bella was finally discovered in Zimbabwe.
After she arrived at Shanghai, Bella was taken to Harbin via highway on Monday along with a three-member team from the zoo, including a professional breeder and a veterinarian.
In order to make Bella feel comfortable and at home, the elephant house was retrofitted before her arrival.
"Tourists can meet Bella in the zoo as she will remain with us," said Liu Xiaomi, zoological science engineer of the zoo. "We all hope Bella and Doudou can have a happy life together."