New Weibo copyright rule sparks controversy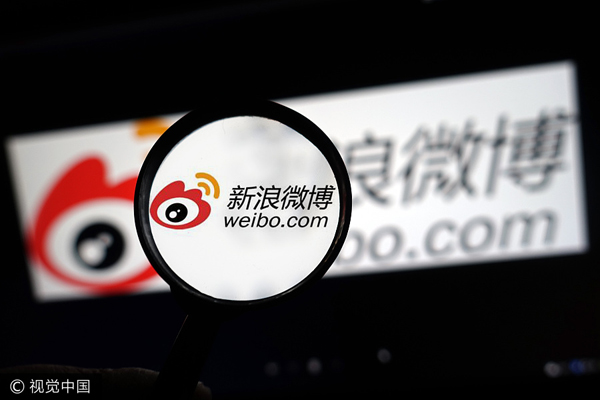 A new rule on Sina Weibo, China's leading microblog service, caused a stir among its users and put a spotlight on internet platforms' competition for user-generated content.
On Saturday, Weibo sent all its users a notice that prohibits them from authorizing any third party to quote what they publish on a micro blog without the company's written approval.
The notice sparked controversy over whether the rule infringes upon the intellectual property rights of content generators.
Speaking about the new rule, writer Ma Boyong asked on his micro blog if "it means if I post a story on Weibo first, then I cannot publish it on a magazine without the approval of Sina?"
Li Mingde, director of the intellectual property center at the Chinese Academy of Social Sciences, said that it is the person who produces the content, not the platform that publishes it, who holds the copyright, unless the copyright is transferred from the creator to the platform.
Li added it is the producer of the content who shall wield legal tools to protect his or her intellectual property rights in the event of infringement.
In response to criticism, Weibo said in an email to China Daily the new rule is aimed at preventing a third party platform from pirating content published on Weibo and the rule is a common practice among internet content platforms.
Luo Chao, the CEO of high-tech media outlet leikeji.com, said in a post on Weibo the new copyright rule of Weibo is related to the fierce competition among internet platforms for user-generated content.
"Platforms such as Baidu, Weibo, Jinri Toutiao and NetEase are becoming increasingly similar to each other nowadays. As content distributors, these platforms' most important resource is the content produced by its users," Luo said.
There have been several disputes over copyrights for user-generated contents involving Weibo in the past few years.
In March 2015, Weibo sued Maimai, a social networking app for office employees, for fetching contents published on Weibo without its approval.
Maimai was convicted of unfair competition and compensated Weibo 2.2 million yuan (about $335,000).
On Aug 11, Weibo cut off the link of Jinri Toutiao, a leading news aggregator app, to its contents, accusing Toutiao for illegally capturing contents published on Weibo without its approval.