Police show human side of the force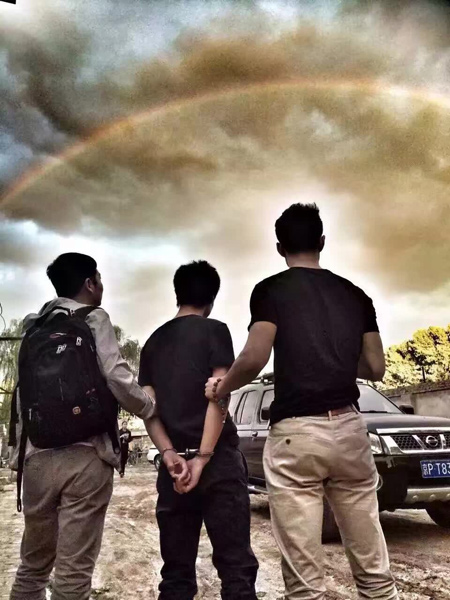 A rainbow appears in the sky as police officer Chen Xu and his colleague, from the Haidian district public security bureau, accompany a suspected killer in Beijing.[Photo provided to China Daily]
Beijing police chiefs have reported significant progress in efforts to boost public safety in the capital by improving criminal investigation techniques and regulating the behavior of officers.
The city introduced 254 guidelines last year, including on evidence collection, interrogations and overall supervision of its 50,000 or so police officers, as China pushes forward the rule of law nationwide.
In particular, officers handling major crimes - homicide, sexual assault and human trafficking - were told to switch focus from securing verbal confessions to finding physical evidence.
As a result, the clearance rate for criminal cases between January and August increased by 17 percent compared with the same period last year, according data provided by the Beijing Public Security Bureau.
Last year, the number of complaints reported to police also fell by 8.7 percent year-on-year, while the number of new cases filed was down by 14.2 percent, the statistics show. But what is life like for the police officers who keep the capital safe? China Daily reporter Cao Yin talked with three active officers about their responsibilities, and their feelings about the job.
Here are the stories:
1. I'm always looking for new ways to find evidence
2. You need to be sensitive to tiny details
3. Polygraphs can be key to solving a case