Playwright Tang Xianzu's tomb found in East China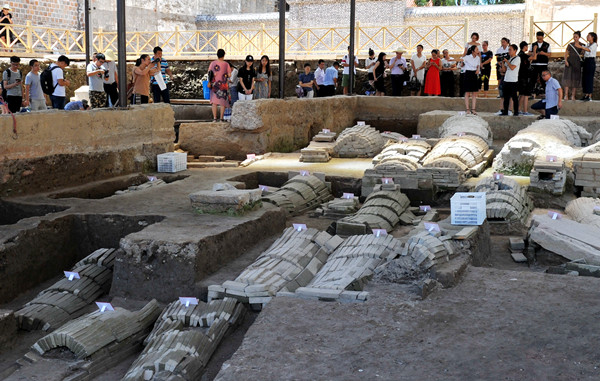 The tomb of ancient playwright Tang Xianzu has been discovered in Jiangxi province, archaeologists announced on Monday. A cluster of tombs was discovered in Fuzhou at the end of last year, after the buildings of a plant built in the 1950s were leveled.
According to Xu Changqing, head of the Jiangxi Provincial Cultural Relics and Archaeology Research Institute, a total of 42 tombs were found, including 40 from the Ming Dynasty (1368-1644).
Archaeologists also found six epitaphs, including several believed to be written by Tang himself.
They believe a tomb identified as M4 contained Tang and his third wife Fu, while his second wife Zhao was buried in tomb M3.
"The epitaphs can help us learn more about the calligraphy, art and literature in Tang's time," Xu said.
Tang, born in 1550, was a Chinese playwright best known for four plays dubbed the Four Dreams. His masterpiece Peony Pavilion tells of a romance between an official's daughter and a poor scholar. A play adapted from this story has been performed for international audiences.
Tang died the same year as English playwright William Shakespeare, and the coincidence has drawn comparisons between the two.
Shakespeare's hometown Stratford-upon-Avon has become a tourist destination in England. A Tudor-style two-story terrace where he was born was preserved, and welcomes groups of international visitors every day.
In April, the government of Fuzhou donated statues of Tang and Shakespeare to Stratford-upon-Avon, which showed the pair standing shoulder to shoulder.
Diana Owen, chief executive of the Shakespeare Birthplace Trust, who took part in the ceremony, said that although the playwrights lived 6,000 kilometers apart and never met, they both created works that had a great effect on the world.
In China, however, there was no specific place to commemorate Tang Xianzu. Before the discovery of his tomb, an empty tomb was built in the People's Park in Fuzhou in the 1980s.
"This discovery is significant, because it tells us more about Tang's life, his family tree and relationships with other family members," said Mao Peiqi, vice-chairman of the Chinese Society on Ming Dynasty History.
"Besides, by learning about the status and lives of Tang's family, we can learn about education, culture and agriculture in the Ming Dynasty as well as the development of society," he said.
The Fuzhou city government plans to build a tourist area at the site. "Then Tang's fans and academics interested in his works will have a place to go," said Wu Fengchu, director of the Center for International Studies of Tang Xianzu in Fuzhou.
Xinhua