Big data reveal interesting fact about Chinese Valentine's Day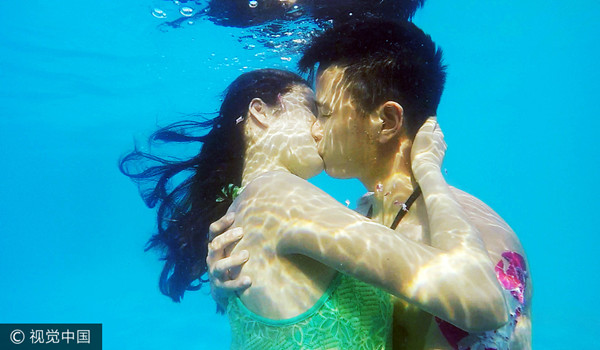 A couple kisses in a kissing contest in Wuhan, Hubei province on Aug 2, 2015. [Photo/VCG]
No one it seems like missing out on any festivals or special days. Chinese Valentine's Day, or Qixi, on Aug 28 is destined to raise a wave of excitement across the country.
Sogou, China's second-biggest search engine, has released a study based on big data revealing interesting facts about this romantic day.
The group aged 24 to 30 shows the most interest in the festival as this segment conducted 37 percent of all online searches related to the event.
Surprisingly, the generation born in 2000s is more excited than those born in 1980s who are usually regarded as the main force of the trend.
Speaking of Zoadic signs, Virgos and Scorpions are paying more attention to the festival than others, against the common perception that these two signs are indifferent and not good with people.
To people who want to take the opportunity of this festival to look for love encounters, they might want to stay in cosmopolitan cities. The data shows people in Shanghai, Beijing and Guangdong care for the Valentine's Day the most, followed by Hubei and Fujian.
Immersed in this sweet ambience, what key words people put into their search engine are not so sweet.
Except "love confession", the No 1 key word, and "having babies" at No 5 in the search engine, "breaking up", "emotional recovery" and "cheating" are the other popular key words on the top. It seems people who are single may not be the only group who will feel a bit sad and left out. So will some couples.
But are those lucky couples enjoying the festive atmosphere? According to the data, people are racking their brains to please their better half. They search for the date, the present, the custom, the quotes about Qixi, and look for plans online to express their love.
All fancy ideas and intense love will finally come down to the earth-- the location.
The hotels, restaurants and amusement parks are still favored by couples as the most popular sites for a date. But when some get creative, they try out new experience like going to a concert, taking a challenge to escape a room based on clues or snack crawl in some street.
As for the people who are single, they are definitely feeling left out. Majority of single males, 53 percent, and 37 percent of single females interviewed for the research said they didn't care whether the dinner is special or delicious as long as it doesn't leave them hungry.
What's more, one third of single people hate the idea of watching shows anywhere with couples.
Speak no more.
It is not a special day for every one.