Chinese choir wins top prize at international choral competition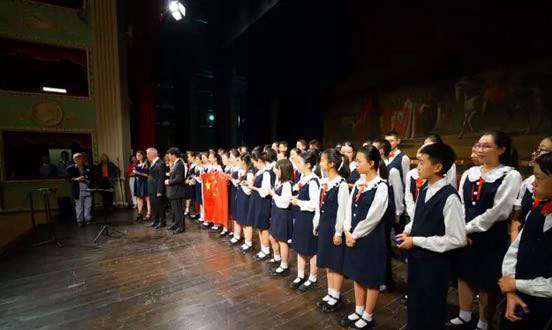 The award presentation ceremony. Photo provided to China Daily
Beijing Philharmonic Choir won top prize at the 65th International Guido d'Arezzo Polyphonic Contest, held in Arezzo, Italy, on Aug 26.
The choir - with 40 members, aged from 11 to 15, from Beijing's primary and middle schools - beat 14 other teams from around the world to win the prize. As the only children's choir in the contest, the singers took part in six events in the three-day contest.
The event, organized by the International Federation For Choral Music, is one of the six major European choral competitions in the EGP (European Grand Prix for Choral Singing) league.
The other five are held in Hungary, Slovenia, Spain, France and Bulgaria. A choir which wins the top prize in any of the six choral contests will be eligible for the next year's EGP grand competition.
The Beijing Philharmonic choir was founded in 1983 by Yang Hongnian, a professor at the Central Conservatory of Music. Over its 30 years of development it has trained nearly 5,000 Chinese children who love music and has performed thousands of songs for audiences all over the world.
At the latest competition, Yang received a special gift from a member of the organizing committee. The Italian, at his 50s, said he had watched a performance by the choir 21 years ago. He made a photo album, with a handwritten message in Italian and Chinese on the cover, showing his respect for Yang.
"This is the real proof of China's soft power," Yang said.