AI a big draw at Shanghai science show
Residents in Shanghai are poised to embrace artificial intelligence, virtual reality and the internet of things, and experience how these technologies can revolutionize their lives at a four-day science trade show.
A total of 3,500 high-tech exhibits from 13 countries and regions are expected to gain traction among visitors to the Fourth Popular Science Products Expo, which started on Friday in Shanghai.
Most attention centered on the cockpit of the C919, China's first nationally-produced large passenger plane, as people lined up to experience a simulation of the aircraft taking off and landing. The exhibit became a real hit as Beijing boosted its profile in the global aviation market via a successful maiden flight in May.
Startups in Shanghai's Zhangjiang High-Tech Park are taking bio-inspired robots to new heights. These gadgets can aid patients in learning how to walk again by detecting their movements and stimulating knee joints with electric motors.
Similarly, wearable devices for medical purposes - from hearing aids and heartbeat monitors to pain-management solutions - have garnered interest among the elderly.
To help visitors relate to the technologies, the fair introduced an immersive shopping experience through a prototyped cashier-less convenient store. Facial recognition, QR code scanning and digital payment technologies essentially allow for the removal of the human element.
hewei@chinadaily.com.cn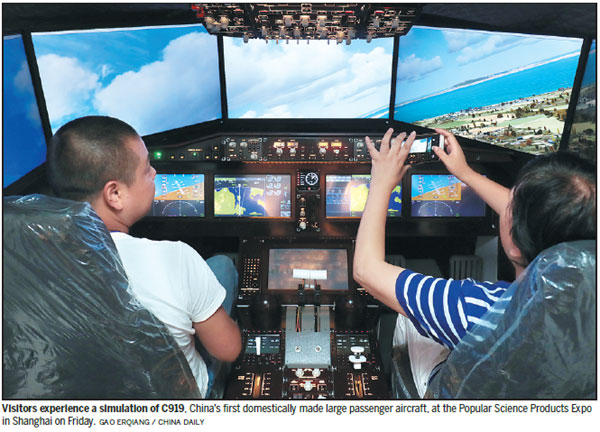 (China Daily 08/26/2017 page4)