New rules ban forum tinkering
Operators of discussion platforms must not manipulate posts for profit
People who run online forums are prohibited from making money by deleting or recommending comments, according to regulations released on Friday by the Office of the Central Leading Group for Cyberspace Affairs.
The rules take effect on Oct 1.
Employees of online platforms should not delete or recommend posts based on subjective opinions about their value or to earn money, the regulations said.
"They are also forbidden from deploying software or hiring people or commercial agencies to spread messages," they said. Forums were urged to operate within the law and according to commercial ethics, and operators were encouraged to shoulder their social responsibility.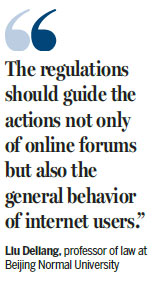 Online forums were also asked to improve technology to protect people's personal information. Safety defects and loopholes that create risks should be found and remedied in a timely manner.
The regulations were released in the wake of a number of incidents that sparked public's attention. For example, Baidu Tieba, an online discussion platform, was accused last year of selling users' information from its hemophilia forum to unregulated private hospitals, making it easier for the hospitals to reach potential clients. The accusation triggered heated discussions about information security and the commercial ethics of websites.
The administration said that while online posts and comments have enriched people's lives, phenomena such as the spreading of rumors, the use of vulgar or otherwise uncivilized words and the posting of illegal information have emerged and created disorder.
Such incidents should be controlled and punished, making for a better online environment, it said.
The regulations also ask cyberspace affairs offices at the provincial and regional levels to set up a credit and blacklist system as a way to strengthen management and supervision of online forums.
Liu Deliang, a professor of law at Beijing Normal University, said the regulations should be more detailed and specific. He said they should guide the actions not only of online forums but also the general behavior of internet users.
"I think it's not necessary to set up credit and blacklist systems in provinces and regions, as that will result in different standards and judgments between offices across the country," he said.
In addition to the requirements for forum operators, the regulations said the platforms should check users' information carefully to confirm real identities before allowing people to post and comment.
"Websites should stick to a principle that each user's real name is visible at the website's back end, while users can decide the names they want to use on the front end," the regulations said.
Contact the writers at zhaoxinyinig@chinadaily.com.cn
(China Daily 08/26/2017 page3)