Hufengling Tunnel connects, construction continues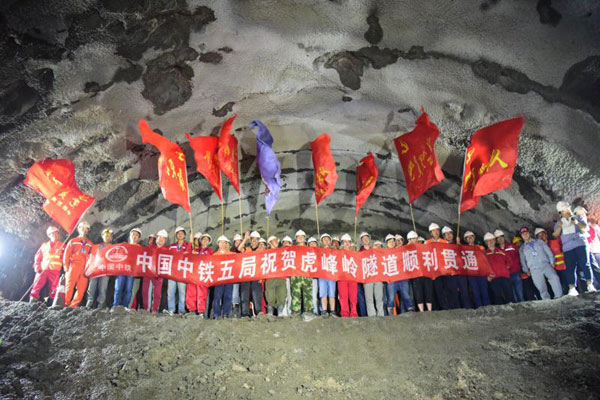 Workers celebrate the rocks on the final section were broken through in Hufengling Tunnel on Aug 20, 2017. [Photo provided to chinadaily.com.cn]
After a loud explosion within the Hufengling Tunnel, 200 kilometers from Harbin, capital of Heilongjiang province, the rocks on the final section were broken through on Sunday.
The tunnel-8,755 meters-on the Harbin-Mudanjiang high-speed rail line is the longest tunnel in regions with temperatures as low as -40C.
During its construction, builders faced a range of difficulties, including the region's extremely low temperatures.
"In order not to delay the project, we are committed to it without interruption even on the coldest days," Wang Zhiqiang, the vice chief engineer of the tunnel project said.
"However, the most serious problem we met was that the concrete construction can't be operated under -5C."
"We built two 4,000-square-meter greenhouses and installed boilers within them to keep the temperature around 10C," Wang told China Daily in an interview.
"The boilers could also provide us warm water to mix the concrete in the greenhouses."
It was about four kilometers away from the greenhouse to the farthest entrance of the tunnel, Wang added.
"We wrapped the tanks with thick quilts during the transportation of the concrete in the cement tankers," he said.
"All the efforts could maintain the temperature."
Wang said he expected the construction of the tunnel to be finished by the middle of October.
The Harbin-Mudanjiang high-speed rail line, designed for trains running at speeds of up to 250 km per hour between Harbin and Mudanjiang, will cut the travel time to about an hour 30 minutes, down from five hours.
Construction of the 300-km line, a high-speed rail line, began in December 2014, and is expected to be put into service by the end of 2018, railway authorities in Harbin said.