Mini-gyms pop up in Beijing
A Misspao gym in Zhongtaiyaxuan community in Chaoyang district.[Photo by Jiang Chenglong/China Daily]
Misspao mini-gyms with room for one were put into use in Beijing on August 8, National Fitness Day. The mini-gyms,also known as shared gyms, are garnering positive and negative attention among netizens.
Each gym contains about five square meters of space and is equipped with a treadmill,a network television and an air conditioning system. Gym users can listen to music, see a film and check emails when running. The cost is 8 yuan ($1.20) for a 40-minute run.
So far, seven Misspao mini-gyms have been placed in five Beijing residential.
Users must download Misspao's app and register before using the mini-gym. Runners need to make a reservation,scan the QR code to open the shared gym's door, work out and when finished, pay with Alipay.
Bi Zhen, Misspao's CEO, said his company's survey showed 95 percent of people need exercise but only 10 percent own a gym membership. So Bi's company decided to bring "indoor sports" to communities, offering a mini-gym at their doorsteps to satisfy sports enthusiasts' needs.
Some people hold a positive view on this innovation. A woman told Pear Video after exercising, "I ran for 15 minutes and felt comfortable to run in it with the air conditioning." A netizen named Mingxuanruge noted the mini-gym is quite cheaper than a fitness center and it's also safer to work out in one's own neighborhood. A property management officer with the Zhongtaiyaxuan community in Chaoyang district said he's noticed that people in their 20s and 30s, especially women, like to use the shared gyms in the evening.
A 39-year-old Zhongtaiyaxuan resident surnamed Han said the two shared gyms in his community are so small that he would feel uncomfortable using it and that he often sees many people getting exercise on the nearby basketball court while the mini-gym remains empty.
"Misspao can only provide runners a treadmill instead of other sorts of sports equipment and it's quite unreasonable to establish a gym without a changing room, a restroom and a shower room," Han added.
Another resident named Zhang, who is in her 40s, thought this kind of gym may appeal more to younger generations rather than the middle-aged.
Apart from Misspao, another shared gym brand, Douba, has offered two shared gyms in Beijing in July. Each including a treadmill or an exercise bicycle, cost about 20,000 yuan ($3,000).
Ge Jia, an internet observer, told Beijing Youth Daily he thinks the mini-gyms won't appeal to people used to the services offered at a full-service gym, such as showers and dressing rooms.
"And it will not work for long due to the lack of fitness programs and the high cost of ground occupation," he noted.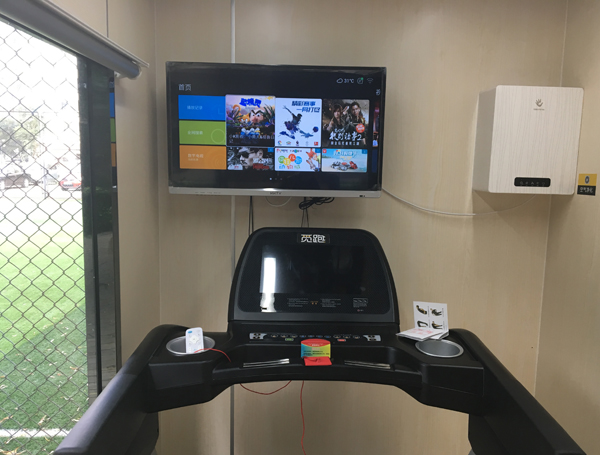 People can watch television while using the treadmill.[Photo by Jiang Chenglong/China Daily]