Hong Kong's Wine Buffs Drinking In High-end Vintages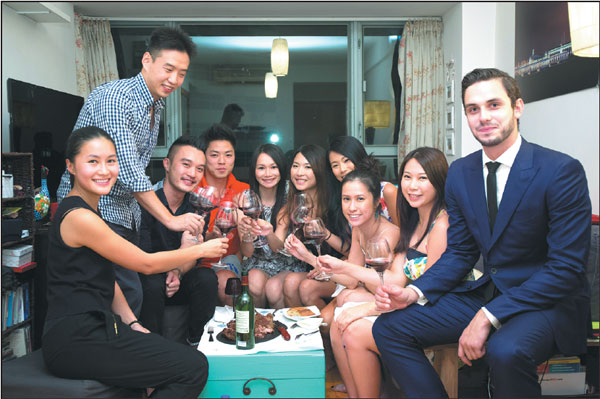 Kevin Davy (right) with some of his students during a wine-tasting evening in Hong Kong.Provided To China Daily
Wine culture is swelling on the vine in Hong Kong, with imports and re-exports thriving and giving rise to subsidiary enterprises that cultivate local connoisseurship, as Honey Tsang reports.
After starting with a welcoming glass of sparkling wine, Kevin Davy and his first-time clients were set to embark on a vinous adventure. They sipped and reveled in glasses of wine poured from carefully chosen bottles. Davy, a sommelier-cum-wine educator, paired the drinks immaculately with nibbles.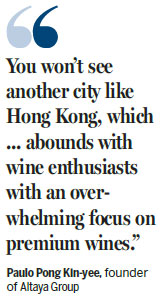 This is when the camaraderie between a wine educator and his students tends to gel - no notes or chalkboard, just banter. Through convivial conversation, the 28-year-old French national imparted knowledge to his students. However, they were not in a classroom, but a client's living room.
In recent years, a new type of door-to-door wine education service has sprung up in Hong Kong, offering a fresh way for the city's wine lovers to understand and better enjoy wines in the comfort of their own homes.
"Most learners are shy. They're often too intimidated to ask basic questions in front of strangers," said Davy, who worked as a professional wine educator in the French region of Provence before moving to Hong Kong. "When they learn at home, they are all just friends and are always happy to ask questions."
This relatively soft approach to teaching people how to appreciate wine works particularly well with wine lovers who plan on exploring more but feel thwarted by the trappings of traditional wine schools.
Davy's venture, Sommelier at Home - which he set up in Hong Kong in 2014 - has borne fruit. He's built a broad clientele, ranging from beginners to regular wine consumers, and even oenophiles, a rather fancy term for wine lovers.
He attributes the success of his business to the locals' zeal for quality wines coupled with a growing thirst for advanced knowledge. He understands that the city's wine drinkers, at all levels, are now more eager to burnish their knowledge of wine as they strive to become smarter consumers.