Message of shame identifies debtors to their phone callers
Novelty messages lose their fun when they announce your dirty secrets.
Guanyun County People's Court in Jiangsu province has teamed up with a local telecommunications operator to design a phone message to embarrass debtors and pressure them to pay the money they owe.
If anyone calls the debtor, the message plays: "The subscriber you are calling has been put on a blacklist by the Guanyun County Court for failing to pay debts. Please urge the person to fulfill his legal obligations. The Guanyun County People's Court appreciates your support. Thank you!"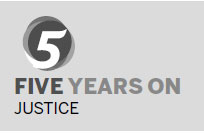 "The message is designed to warn debtors and get them to repay their debts as soon as possible," said Pan Xingjun of the court.
"The message will disgrace debtors and force them out of hiding," Wang Yong, an employee of the court, told Paper.cn. "The debtors' relatives and friends will be reminded of the debtor's lack of credibility and they can avoid being swindled.
"They cannot cancel the message themselves unless they repay their debts, and all mobile phone numbers registered under their name will be covered."
Under China's real-name registration policy, ID cards must be provided to telecom operators to obtain new phone numbers.
So far, 10 debtors have been put on the list by the Guanyun court. Most are self-employed people who have hidden assets or have transferred them to avoid paying debts.
"They have the ability to repay, but refuse to carry out their legal obligations," the court said. "Some of them fabricated proof to resist repaying debts."
The court said it would work with more telecom operators to further enforce the measure.
When the message was launched on the morning of July 20, one debtor immediately called one of the judges in the afternoon to cancel it, promising to repay the 100,000 yuan ($14,800) he owed in installments.
Huangshi, Hubei province, and Dengfeng, Henan province, recently introduced similar measures.
Many debtors have tried a variety of ways to avoid repayment. On Friday, a court in Wuhan, Hubei province, said that a 59-year-old woman had plastic surgery in an attempt to disguise herself to avoid repaying 25 million yuan in debt.
Xinhua