Private sector to help build skating oval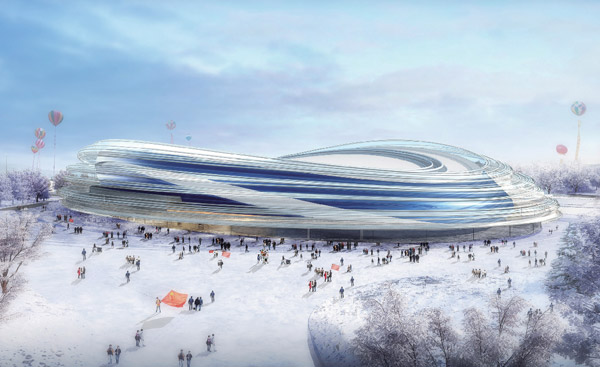 The National Speed Skating Oval, a new venue for the 2022 Winter Olympics, is seen in an artist's rendition. It will be built and operated by a public-private partnership. [Photo/CHINA DAILY]


Partnership with government will split the costs and provide for future uses
Private partners will be invited to build and operate the new speed skating venue for the 2022 Winter Olympics as part of a cooperative program launched Friday by Beijing.
The program aims to share costs and improve sustainability, officials said.
Five years ahead of the 2022 Olympic and Paralympic Games, Beijing has already begun planning for the post-Games use of its new venues. Plans call for the private sector to contribute funds, construction resources and operational expertise to help build and run the 12,000-seat National Speed Skating Oval jointly with the government.
The public-private partnership is overseen by the Beijing Major Projects Construction Headquarters Office, regulator of the city's major building projects. It will open the bidding process to individual enterprises and consortiums globally at the end of July, with all the bids to be evaluated by late September, according to the office.
Bidders with deep pockets, stadium construction experience and post-event operations know-how will be favored in the selection, officials said. The office will oversee the process.
The eventual bid winner will be authorized to transform and operate the venue for commercial purposes for 25 years after the Games, together with Beijing State-owned Assets Management Co, the governmental stakeholder in the joint venture.
"It will be an effective model for sharing construction costs and encouraging the private sector to offer innovative and commercially practical solutions for the sustainable use of the venue," said Wang Gang, Party chief of the office.
The oval, to be built on the site of the former Beijing 2008 Summer Olympics' temporary hockey grounds, was designed by international architectural firm Populous as home to the long-track speed skating competition in 2022 and a future center for public skating, ice hockey games and entertainment events.
Construction is to be completed by the end of 2019 on a planned budget of 1.18 billion yuan ($174 million). It will stage the first warm-up event for Beijing 2022 in early 2020.
After the Games, the government will allow great operational freedom and offer necessary logistical support to the private partner to help it develop functions for the venue, said the office.
"However, we will do our job to supervise the operation through the entire joint-development course under a transparent and open framework," said Dai Mengdong, a senior inspector with the office.
Olympic ice events will be held at 12 venues, including eight existing facilities, in downtown Beijing. Alpine skiing, bobsled and luge will be hosted in Yanqing county in the capital's northwest suburbs. Co-host city Zhangjiakou in Hebei province will host the rest of the snow events.


Editor's picks