Miniature ceramic figure class gaining popularity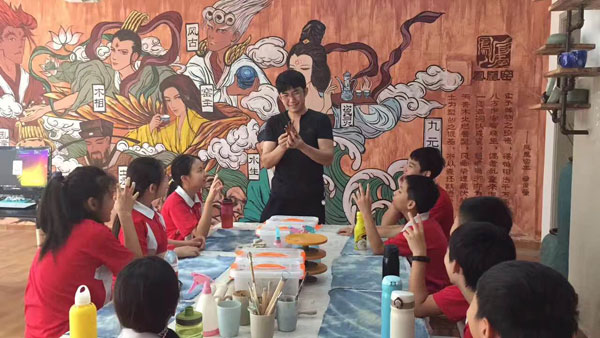 Qu Junmeng shows a class of students how to make miniature ceramic figures.Photo provided to chinadaily.com.cn
A miniature ceramic artist, based in Sanya, South China's Hainan province, has launched a course in a bid to pass on his traditional talent and love for miniature ceramic making.
Qu Junmeng , aged 37, studied ceramic arts at the Qingdao University and has more than 20 years' experience in the ceramic making industry. During this time, he has become a highly reputable ceramic artist with his work detailing Hainan culture.
With support from the Sanya Foreign Language School, Qu launched the class in May with his wife Zheng Ting, a native of Hainan Island who also loves the art.
In two months, the miniature ceramic art class has become popular among students in every grade at the school, and the lesson has expanded to four classes classified by ages, teaching a total of 16 students in each.
Foreign students who study at the International School of Sanya have also started attending classes, which are taught in both Chinese and English.
"We have adopted a mixed teaching technique for both Chinese and foreign students, with the same age study in the same class so they can learn from each other," Qu said.
"This way, they can help each other while studying the knowledge and skills of Chinese ceramics."
Zheng, Qu's wife, said all the students love the class.
"Many of them have told us that it was their favorite course," she said.
"They won't leave even when the class is over."
Throughout his profession, Qu has built a large fan base with his 72 traditional Chinese kneading miniature ceramic figures, each at an average size of 10 centimeters - the figures define the 72 processes in traditional porcelain making.
The ceramic figures, which took the artist half a year to finish, showcase each of the porcelain-making steps. It highlights the very beginning of sorting the right stones through to crushing the stones, making mud, producing porcelain to glaze and calcine, and the final ceramic conservation.
"Traditional Chinese kneading miniature ceramic works, usually not more than 25 centimeters in size, can only be made by fingertips before firing with temperature as high as 1,300 degrees," Qu said.
"It takes days to complete a complicated figure, but the final rate of a successful work is only 30 percent."