From livestock to rat breeding, he gains confidence - and cash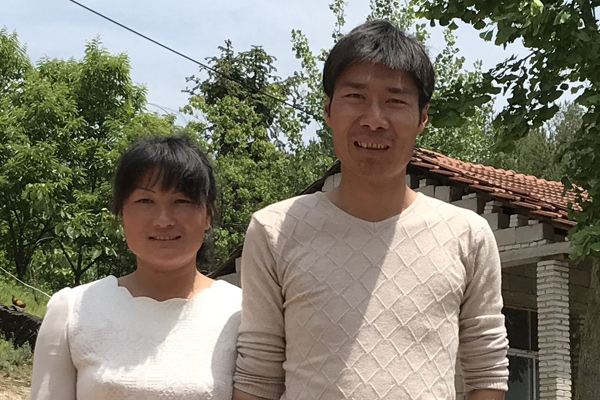 Xiao Ling and his wife. [Photo by Wu Yan/China Daily]
A once-impoverished farmer turned to breeding a rare animal in his hometown - bamboo rats - hoping to bring a measure of prosperity both to his neighbors and himself.
Xiao Ling, 38, a farmer in Hongxing community, a village in Chengmagang, Hubei province, brought in 117 mating pairs of bamboo rats on Wednesday to start his breeding operation.
The rats are expected to produce babies early next year, bringing their numbers up to 600 and earning about 60,000 yuan ($8,800) in profits by the middle of next year, when the second batch is delivered.
In April, Xiao attended a training course in Nanning, Guangxi Zhuang autonomous region.
"It is an emerging industry with only a few people handling the business," Xiao said.
The meat of the bamboo rat can be used as food or medicine, and its fur can be used in clothing. Currently, raising bamboo rats has low risk and high economic value, he said.
"Bamboo rats are well-known in some regions of South China, but in Hubei few people know about them, not to mention raising them to make money."
Xiao had left his home and worked in cities for more than a decade. To take care of sick family members, he returned home in 2011 and started a pig farm, also raising a few cattle, sheep and chickens.
However, pork prices were low, and it was hard to stay in business.
"Raising pigs is risky, as the operating costs are high," Xiao said.
Although he accumulated years of farming experience and always worked hard, he actually lost money in recent years.
The turning point came in 2015, when charity organization Heifer International carried out its poverty relief program in Macheng.