Eco-farmer nurtures dreams of tourism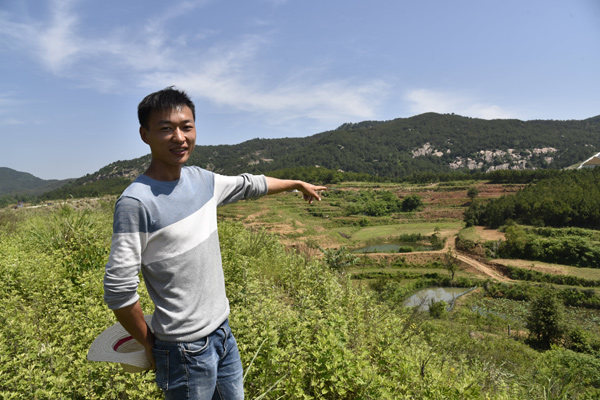 Hu Zhongqing introduces his ecological agricultural garden in Macheng, Hubei province. [Photo by Wu Yan/China Daily]
Editor's note: In the run-up to the 19th Communist Party of China National Congress, China Daily sent six reporters to villages nationwide to live for a month and take a look at how people are working under China's poverty eradication plan.
Hu Zhongqing, 27, left Chengmagang town in Macheng city, Hubei province, nine years ago for college, where he majored in horticultural studies.
Like most people born in the 1990s, he found jobs in big cities after graduation and set aside his dream of building an eco-farm in his hometown.
Last year, however, he heeded his heart and started a business back home.
"I and some of my roommates in college used to talk about combining ecological agricultural and sightseeing, and I've now put the idea into practice," Hu said.
He rented about 12 hectares of woods and farmland in Hongxing, a mountain village in Macheng, from other villagers last year and planted 3,800 fruit trees, some nursery stock and rice. He also built several ponds for growing lotus.
"All my agricultural products are free from pesticides and chemical fertilizers," he said.
He achieves that through ecological recycling - a process that requires a few pigs, cattle, sheep, 1,000 chickens and ducks and a compost pit that turns animal excrement into green fertilizer.
Hu saw an opportunity to combine ecological agriculture with rural tourism. He plans to introduce an oil-pressing mill, a tea- and tofu-making house, fruit picking, visitor accommodations and leisure activities to create an experience-oriented agricultural tourism destination.
Chengmagang is an old revolutionary base in Dabie Mountain and had long been in poverty. Since the latter half of 2015, the town developed fast under President Xi Jinping's call for "targeted" poverty relief.
At the end of last year, Hongxing was declared poverty-free, with average per capita net income at 8,180 yuan ($1,200) a year, according to the authorities - significantly above the poverty line of 3,500 yuan.
Hu's farm is near three tourist attractions and only 500 meters from the intersection of two regional highway arteries: an expressway - which runs between Daqing, Heilongjiang province, and Guangzhou, Guangdong province - and the "red tourism" route around the Dabie Mountain, revolutionary base areas from the mid-20th century.
"Tourists from cities can drive to my garden the moment they get off the expressway, and those on the 'red tourism' route can also have a rest here," Hu said, adding that he hopes in one or two years his garden will attract nearby citizens to experience rural culture and green living. And he has confidence in the prospects.
"More and more citizens like to spend leisure time in rural areas," he said, "but there are no facilities or services to cater to their needs here. Restaurants are far from enough."
Hu is in the initial stages of the business. He can enjoy 50,000 to 200,000 yuan in preferential loans offered to university students who start businesses.
"National policy encourages the development of ecological agriculture and the Hongxing community committee also gives me full support," he said.
"His idea is pioneering, and his business has the potential to lead the community's development," said Yi Jiazhi, Party chief of Hongxing.
One-third of villagers go to big cities for work, leaving one-third of the land deserted. Hu rented some villagers' wasted land.
"The country is pushing supply-side structural reforms in agriculture. One of its goals is specialized land use," Yi said. "We must help professionals plant agricultural products and raise livestock on aggregated land."
wuyan@chinadaily.com.cn