Man gives helping hand to vagrant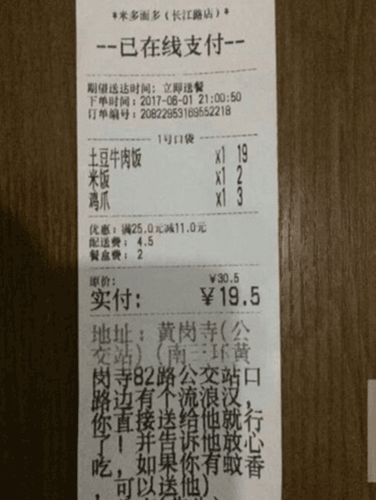 An order that is placed for a stranger. [Photo/Dahe Daily]
Zhang Xuedong, the manager of a noodle restaurant in Zhengzhou, Central China's Henan province, recently received an unusual order, stating the meal should be delivered to a bus stop.
He said the order, made on June 1, was placed for food including a serving of beef and potato-topped rice, and added the recipient was to be a "vagrant near the bus stop of route 82 at Huanggangsi in 3rd Ring Road" as detailed in the order's note.
The message said "give the food to him, and tell him to eat without doubt. If you have mosquito-repellent incense, please give it to him too."
Touched by the kindness of the individual who placed the order, Zhang took a photo of it and posted it on social networking platform WeChat, which drew the praise of many people.
According to the report of Zhengzhou-based Dahe Daily, the order was made by a man surnamed Bao. The 26-year-old salesman, who is from a village in Fugou county, Zhoukou city, rents a home in Zhengzhou and earns a salary just enough to make the ends meet.
Bao said, on the night of June 1, he placed the order after getting off a bus and seeing a middle-aged man lying on the ground in a dim light. With his luggage beside him, the man seemed to be a vagrant or a migrant worker, Bao said.
Bao added he felt sad seeing the man as it reminded him of his father. He said his father used to labor at a construction site, and like many other migrant workers, his father often slept on the roadside in summer to save money.
To praise Bao's efforts, the owner of the restaurant offered him a week's worth of meals. However, Bao declined the offer and said he did not want to owe anyone a favor.