Pig farming fattens up family's income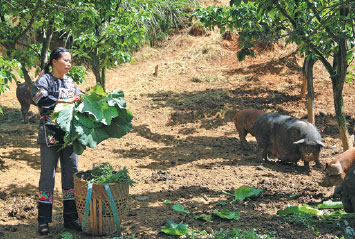 Long Yingzu feeds some of her pigs in an open area of her farm in Shibadong village, Huayuan county, Hunan province. Liu Xiangrui / China Daily
Editor's note: In the run-up to the 19th Communist Party of China National Congress, China Daily sent six reporters to live for a month in poor villages to see how China's poverty eradication plan is improving people's lives.
Every day, Long Yingzu and her younger sister Long Yinglan feed more than 80 sows and take care of several hundred piglets on their well-equipped pig farm, sometimes with the help of their parents.
In recent years, they have not only consistently enhanced their family income with the livestock business but expanded the benefits to others in Shibadong village.
Long Yingzu, 44, grew up in the remote mountainous county of Huayuan, in Xiangxi Tujia and Miao autonomous prefecture, Hunan province.
Villagers in this Miao ethnic community once lived in extreme poverty because of limited arable land and other resources, as well as inconvenient transportation.
Long Yingzu turned to farming after dropping out of middle school. To increase the family's income, Long, like many villagers, went to look for part-time work in the provincial capital, Changsha, in 1997. She first helped farmers harvesting rice, and then was employed at a large pig farm.
She started from basic work - cleaning the pigsty and sanitizing - the dirty, tiring work that most others shunned, she said. In the beginning, she earned 300 yuan ($45) a month, a relatively good salary back then.
"I was more afraid of poverty than hard work, so I decided to grit my teeth and hung on," Long recalled. She was gradually assigned more important work after impressing her boss with her diligence.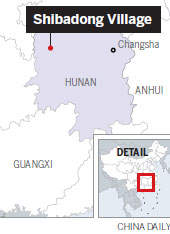 After working for several years at the pig farm, she became familiar with farm management and mastered important skills, including artificial insemination. In 2002, she decided to give up her good-paying job and return home to start her own farm.
"The salary would not fundamentally change our family's financial circumstances, and I knew I wouldn't be able to work in the city when I got older," she said.
Starting up
Purchasing a sow and a boar with her 8,000 yuan in savings, Long started a farm in her old house. Unable to afford feed, she had to collect weeds from the mountains as food for her pigs and usually woke up early to cook their food. She also needed to climb the steep slopes to fetch water for the animals, and fell many times during the winter.
The hard work paid off. By the end of 2003, she was able to bring in more than 70,000 yuan from selling piglets and providing artificial insemination services to local farmers. Her business gradually expanded to nearby counties as her skills continued to improve.
In the course of business, she not only rebuilt her home but also a well-equipped, modern pig-raising facility that even has a biogas digester to reduce pollution. Animal waste is given to farmers free as organic fertilizer, she said.
Now the farm earns about 800,000 yuan annually. Long's younger sister joined to help as the business grew bigger.
"Most of the piglets are sold to villagers in surrounding areas. The demand is higher than the supply," said Long, adding that buyers usually place orders in advance. According to Long, another 30 sows will be added soon.
The sisters have also received help from the county government, especially technical assistance from the department of animal husbandry.
"My sister has the skills, and I can do the management," said Long Yinglan, 35. "We are a good match."
Graduating from a technical secondary school, Long Yinlan had tried various work, including supermarket accountant in the county-level town, before going to help her sister.
In their home office next to the farm, books about pig breeding are piled on a table.
With the help of a local government policy to help farmers enhance their educations, Long Yingzu is attending a junior college, where she studies agricultural science. She will graduate this year.
"Using traditional experience is good for raising a few pigs, but it takes knowledge and science to manage such a large number of them," Long said, adding that they have learned through practice to adjust to local conditions.
Neighbors benefit
The sisters established a village cooperative in early 2014 in an effort to help their neighbors increase their incomes. Now the cooperative has grown from six households to more than 20. The Long sisters teach the members skills and help them sell their piglets.
They have named the cooperative Mulan, after the legendary Chinese heroine Hua Mulan.
"We believe women can also play a crucial role in helping shake off poverty," said Long Yingzu, who was elected as the village committee's director for women's work a couple of years ago.
Long Shiman, one of the cooperative participants, said raising pigs for the cooperative has improved his family's income markedly last year.
"We are raising three sows and earned more than 8,000 yuan from each last year," he said, adding that he plans to increase the number of females.
Now the Long sisters are planning to further upgrade their industry by turning the slope around their farm into an intercropping farm, where pigs destined for pork dishes can be raised organically. They expect that will attract tourists, as the village aims to boost tourism with its natural resources, including its karst caves.
"In the future, visitors cannot only have fun on the farm but also eat and buy organic pork from us," Long Yingzu said.