Homegrown medical device industry needs innovation and boost
The home-grown industry of medical devices is underdeveloped in China as domestically made products account for less than one percent of the market value, according to experts and industry insiders.
In 2016, the market of medical equipments both the homegrown and the imported, is valued at 6.7 trillion yuan, but those designed and made by domestic companies totaled only 30 million yuan, industry report said.
Nie Honglin, founder and CEO of Shanghai Ezisurg Medical, the first hi-tech innovation company in China dedicated to making minimally invasive surgery devices for tumor disease, said with insufficient patent protection, the Chinese practitioners are usually reluctant to invest heavily into research and product innovation.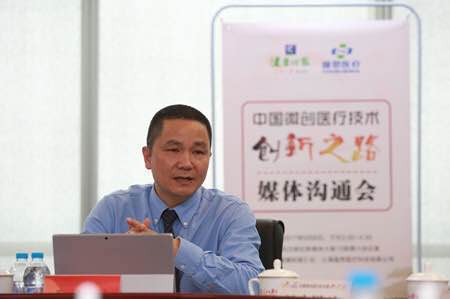 Nie Honglin, founder and CEO of Shanghai Ezisurg Medical 
The industry within the county fledged based on massive copy of imported products and can only make the low-end kinds, he said.
To take control of the high-end market, Nie suggested the government introduce more encouraging measures and show more respect to research and development efforts by medical scientists to enhance innovation.
Zhi Xiuyi, an expert in lung cancer at Xuanwu Hospital in Beijing, said no more than 10 percent of the Chinese cancer patients can land a minimally invasive surgery.
Domestically made equipments are rarely seen in such advanced areas, he said.
Nie Honglin said the joint effort and partnership among medical device industry, hospitals, and clinical doctors would help enhance research and development of innovation products.
Minimally invasive surgery should have less operative trauma, other complications and adverse effects than an equivalent open surgery.