Agricultural Bank helps poor villagers improve their lives
Editor's note: In the run-up to the 19th Communist Party of China National Congress, China Daily sent six reporters to villages nationwide to live for a month and take a look at how people are working under China's poverty eradication plan.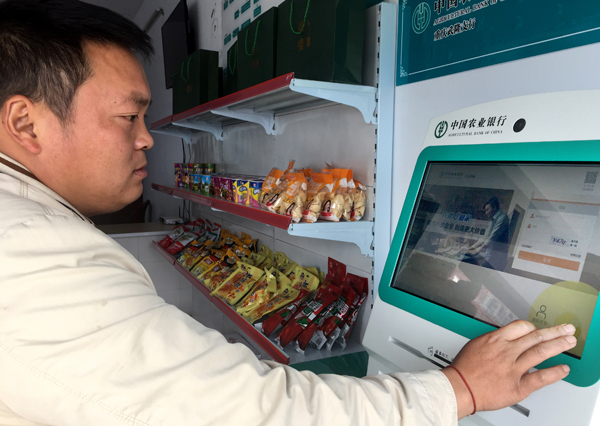 Xiao Chuanguo, a resident of Fazi village in Chongqing's Wulong district, uses Agricultural Bank of China's integrated financial services on a bank terminal.[Photo by Tan Yingzi/China Daily]
Financial services include access to cash, with help of tiny supermarket
In a tiny supermarket in the poor mountain village of Fazi in Chongqing's Wulong district, Xiao Chuanguo inserted his Agricultural Bank of China card into a green and white machine with a touch screen and entered the password and the amount of money he wanted to withdraw - 500 yuan. The machine printed out a receipt and Xiao took it to the cashier, who checked it and gave him the cash.
Xiao left with a pack of cigarettes and a dozen rolls of toilet paper.
"It's so convenient," he said. "What a surprise we now can withdraw money right in the village and buy things from a supermarket."
In the past, the village's 550 families had to descend from the mountains to the Huolu town center to buy daily necessities and conduct bank business. Last month, the village built a small supermarket and set up a bank service center, the first of its kind in Chongqing.
Developed by the ABC Chongqing Wulong Sub-branch, the green and white computer terminal provides integrated financial services to farmers living in a distant rural area who usually have difficulty accessing bank services in towns and cities.
In addition to cash withdrawals, people can use a range of services, including making money transfers, applying for small loans, paying electrical and phone bills, buying train and air tickets and even making an appointment at a nearby hospital.
The terminal is also connected with the bank's e-business service, which can help farmers buy and sell agricultural products nationwide.
The Chinese government has pledged to enact more support policies, including financial tools, to lift the country's poorest 70 million people above the poverty line by 2020.
In China, as in so many places around the world, a lack of opportunity, along with disabilities, disease and natural disaster, can push a family into poverty or make it hard to climb out.
But many people in rural areas, especially the poor, cannot get easy access to financial services.
ABC, one of the four largest banks in China, has come up with some innovative ways to solve the problem.
"The supermarket and the bank machine is a way to bring poverty relief programs to farmers' doorsteps," said Li Song, head of the ABC Huolu town office.
It is not practical for the bank to install regular ATM machines, supported by employees, in such a remote place, Li said, but a small supermarket can help manage the business in the village.
The supermarket is run by the village committee, which was given 30,000 yuan ($4,400) in seed money from the Huolu government as part of its poverty relief effort. The bank trained the committee members to operate the terminal so that they can help villagers use it.
"When someone wants to withdraw less than 2,000 yuan, we transfer the money to the bank account of the supermarket and its cashier can give cash to the customer," Li said.
The bank pays a service fee to the supermarket based on the number of financial transactions conducted at the terminal each month. All the income from the retail and financial business will go to the committee to help improve the impoverished village's public services.
"It is estimated the ABC integrated service terminal can bring steady income to the village committee of 200 to 1,500 yuan a month," Li said.
Community inspired
Fazi village, with more than 2,000 people, averages 975 meters above sea level. Its 550 families are scattered across 20 square kilometers.
According to a government survey in 2014, nearly 10 percent of the people in Fazi had incomes below the national poverty line - which was 3,000 yuan annually per capita in Chongqing.
Peaches, plums, tobacco and animal husbandry are the main income sources for the villagers.
Shen Jianzhong, 46, has grown peaches in Fazi since 1996. His success inspired many of his neighbors to follow suit. In 2012, he started the first farm cooperative in the village. It includes 10 poor families.
In 2015, Shen wanted to expand the rain shelter at his plantation to increase the quality and quantity of the peaches. Lacking sufficient collateral, he failed to get a loan from the bank. He borrowed from family and friends, but he was still 800,000 yuan short.
When Li, ABC's local head, learned of Shen's situation, he sent staff to evaluate the plantation and immediately approved a loan. In just one week, Shen got the 800,000 yuan he needed for the shelter expansion.
"We created a new type of agricultural loan based on Shen's situation," Li said. "Under his leadership, peach farming has become a pillar industry in our area."
Low-interest loans
For the poor families who have no valuable property or cash flow, borrowing money from a bank used to be out of the question. Now, if they want to apply for a low-interest poverty relief loan to develop their farms or refurbish their houses, the bank staff will visit the village to evaluate their credit history.
The credit evaluation usually reviews four main points: personal integrity, number of laborers in the family, labor skills and net income.
Based on their credit record, the families will be given a loan of 3,000 to 100,000 yuan without any collateral.
As of the end of 2016, the bank had extended loans totaling 750,000 yuan to 43 poor families to support their pig and poultry farms. The average annual income per capita in Fazi village has increased from 1,425 yuan to 3,920 yuan.
"With help from those financial programs, our villagers expanded their industries, built new homes and got clean drinking water and better roads," said Xiao Dejun, head of Fazi village. "It has really made a big change here."