Report says teens should reduce sugar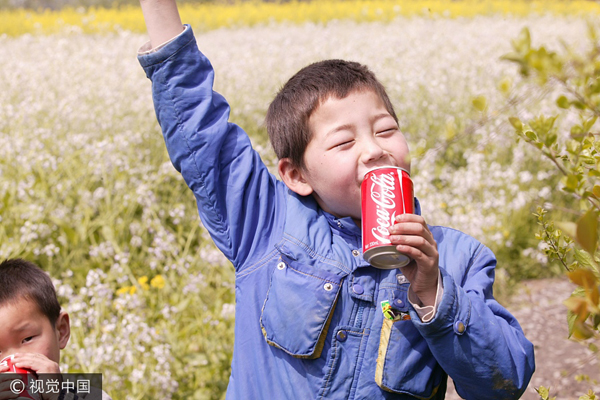 A boy drinks sweet drink. [Photo/VCG]
Experts: Popularity of sweet drinks may lead to major health problems
Chinese teenagers love their sweet drinks - consuming more than what's recommended daily. But they need to cut back to avoid tooth decay, obesity and diseases related to excessive sugar intake, health experts warn.
A report based on a survey of 14 provinces found that the average daily intake of sugar for Chinese people is lower than the recommended level set by the World Health Organization, but for children age 3 to 17 it's much higher because of the growing popularity of sugary drinks.
The WHO recommends a daily intake of sugars for adults and children of less than 5 percent of total daily energy intake. Government health authorities suggest less than 50 grams a day.
The survey, conducted in 2014 by China's health, education and sports authorities, found that the sugar intake of males 13 to 17 surpassed 8.1 percent of total intake. Only numbers for boys were given.
"This means an effort to reduce the sugary drink intake of teenagers is urgently needed," Liang Xiaofeng, deputy director of the Chinese Center for Disease Control and Prevention, said on Thursday.
"In addition, I have found that sugar imports are increasing," he said, adding that more Chinese people are picking up Western-style eating habits, including the consumption of more desserts containing lots of sugar.
Sugar is a carbohydrate that provides the body with energy, but excessive sugar intake is closely related to tooth decay, diabetes and cardiovascular disease.
About 12 percent of children age 7 to 18 who were surveyed were overweight, which by Chinese standards means they have a body mass index of between 24 and 27; and 7.3 percent were obese, or a BMI of 28 or higher.
Besides sugar, Chinese authorities are encouraging reduced intake of salt and edible oils. And they're promoting physical exercise in pursuit of a healthy lifestyle.
In 2012, the daily salt intake of people aged 12 and over was 10.5 grams, higher than the national recommended level of 6 grams; the daily oil intake was 42.1 grams, higher than the recommended volume of 25 to 30 grams, data from National Health and Family Planning Commission show.
"We have seen 25 percent of adults develop high blood pressure, and 10 percent have diabetes," Liang said. "And the rates are climbing, which is a warning to take steps to control the problem."
The Action Plan on Promoting Healthy Lifestyle in China (2017-25), released in late April by the commission, is targeting these issues.
"To reduce the intake of sugar, salt and oil, we need to build the concepts of a healthy lifestyle into students' studies, making teenagers aware of the negative effects of an unbalanced diet," said Yang Yuexin, director of the Chinese Nutrition Society.
"Knowing how to live a healthy life and better protect themselves is more important than exam scores," she said.
zhengjinran@chinadaily.com.cn