Xi says ties with ROK can be reset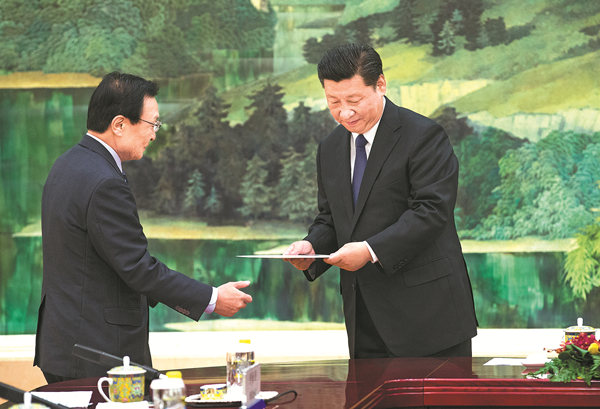 The Republic of Korea's special envoy Lee Hae-chan (left) presents a handwritten letter from ROK President Moon Jae-in to President Xi Jinping during a meeting at the Great Hall of the People in Beijing on Friday.
China willing to work jointly to strengthen trust, he tells envoy
China is willing to make joint efforts with the Republic of Korea to push bilateral ties back onto a normal track as soon as possible, President Xi Jinping said on Friday as the two sides sought to repair relations damaged by the ROK's deployment of a US missile defense system.
During Xi's meeting on Friday with Lee Hae-chan, special envoy of ROK President Moon Jae-in, at the Great Hall of the People in Beijing, Lee submitted a letter handwritten by Moon to Xi.
The meeting took place at a time when Sino-ROK ties have suffered because of the deployment in the ROK of the US Terminal High Altitude Area Defense system.
Noting that the Sino-ROK relationship is in a crucial period, Xi expressed willingness to handle disagreements properly and to improve bilateral ties to benefit the people of both sides.
China attaches great importance to Sino-ROK relations, he said, adding that the two countries should strengthen political trust on the basis of mutual understanding and mutual trust.
"Your visit to China to step up the communication on important issues related to bilateral relations ... shows that President Moon and his administration have attached high importance to our ties," Xi told Lee in his opening remarks.
Xi stressed that China adheres to realizing denuclearization of the Korean Peninsula and ensuring regional peace and stability, and is committed to resolving any issues through dialogue and coordination, which he said is in the fundamental interests of both countries and the region.
He said China is willing to enhance communication with the new government of the ROK on these issues, to firmly promote denuclearization of the Korean Peninsula and to restart related dialogue at an early date.
Lee said the ROK understood China's major concerns and was ready to strengthen coordination with China to remove any obstacles to the development of bilateral ties.
The ROK and China share similar opinions and positions on the nuclear issues of the Korean Peninsula, Lee said, adding that the ROK is willing to work with China to realize the denuclearization of the peninsula and safeguard peace, stability and security in Northeast Asia.
State Councilor Yang Jiechi also met with Lee on Friday morning.
On May 12, the ROK's ruling Minjoo Party said it will push for a public hearing on the deployment of THAAD to stop conflicts over the issue. On April 26, part of a THAAD battery, including radar, was transported to a former golf course in the southeastern part of the ROK, causing strong protest from residents.
Jin Yong, a professor of international relations at Communication University of China, said the ROK envoy's trip to China has sent a signal that the new ROK government is making efforts to improve relations with China.
China's stance on opposing the deployment of THAAD is unlikely to change, since it is related to the strategic security of the nation, Jin said.