Moving 'history forward'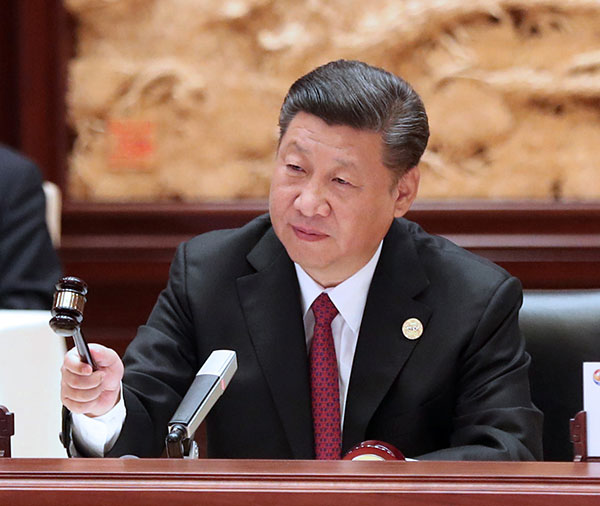 President Xi Jinping announces the start of the roundtable of the Belt and Road Forum on Monday in Beijing.[Photo by Ma Zhancheng/Xinhua]
Belt and Road Initiative bringing people together in 'pursuit of a better life', Xi says; 2nd summit set for 2019
"The Belt and Road development does not shut out, nor is it directed against, any party."
"Though originating in China, the Belt and Road Initiative BELONGS TO THE WHOLE WORLD. Its development goes beyond regions, stages of development and civilizations."
"Geese can fly through wind and rain for a long time because they fly in flocks."
China will host the Second Belt and Road Forum for International Cooperation in 2019, President Xi Jinping announced on Monday at a news briefing in Beijing while describing the outcomes of the forum and the Leaders Roundtable.
At the forum this year, held on Sunday and Monday, 29 foreign heads of state and government as well as chiefs of international organizations, corporate leaders, senior officials and scholars gathered to chart the blueprint for the Belt and Road Initiative, which has won positive feedback from more than 100 countries.
Xi confirmed that China has so far signed cooperative agreements with 68 countries and international organizations concerning the initiative, including those signed during the forum.
A list of major outcomes of the forum was approved at the closing ceremony of the forum, with 76 items including more than 270 concrete results in the key areas of policy, infrastructure, trade, finance and people-to-people exchanges.
Leaders attending the roundtable on Monday also issued a joint communique, in which they stated a "shared commitment to building an open economy, ensuring free and inclusive trade (and) opposing all forms of protectionism in the framework of the Belt and Road Initiative".
The summit has seen leaders agreeing to prioritize policy consultation, work on perfecting the infrastructure connectivity network and better serve public well-being and sustained development, according to an official release of the Foreign Ministry.
While chairing the summit, Xi said the Belt and Road Initiative is an open and inclusive platform and a public service jointly built by parties around the world.