Xi urges broader cooperation with Czech Republic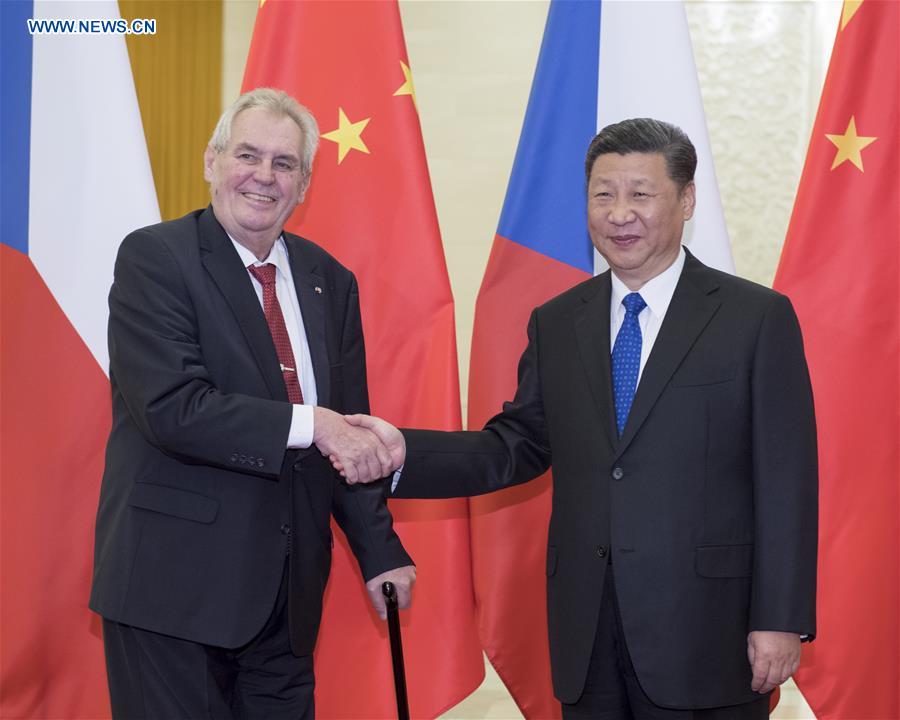 President Xi Jinping meets with Czech President Milos Zeman in Beijing, May 12, 2017. Milos Zeman is in Beijing to attend the Belt and Road Forum for International Cooperation. [Photo/Xinhua
BEIJING - President Xi Jinping on Friday called for broader cooperation with the Czech Republic, saying he expects the country to actively participate in the Belt and Road development.

Xi made the remarks when meeting with Czech President Milos Zeman, who is in Beijing to attend the Belt and Road Forum for International Cooperation, scheduled for May 14 to 15.

China is ready to work with the Czech Republic to advance their strategic partnership to a higher level, Xi said.

He urged stronger cooperation in such areas as high-speed railways, nuclear power and finance, as well as broader exchanges in education, culture, technology, health care, tourism and other fields.

More extensive exchanges between young people and closer cooperation in winter sports are also needed, he said.

The two sides should continue to base their relationship on mutual respect, Xi told Zeman.

Speaking of a Sino-Czech cooperation plan on the Belt and Road Initiative, Xi pointed out that it has a positive demonstration effect as the first bilateral plan of its kind signed between China and a European country. He said he believes that the Czech Republic will continue to actively participate in the Belt and Road development.

China hopes Central and Eastern European countries can align their development with the initiative, as an example to other European nations, Xi said.

He also reiterated China's stance of firmly supporting the European integration process.

Zeman said his country is a friend of China and has seen deepening friendship and cooperation with China in recent years.

The Czech Republic strongly supports the Belt and Road Initiative and stands ready to vigorously cooperate with China, especially in areas of trade, finance and infrastructure, Zeman said.
After the meeting, the presidents witnessed the signing of several documents on cooperation in such fields as the Belt and Road development, small- and medium-sized enterprises and health care.