Lab-grown veggies costly but have market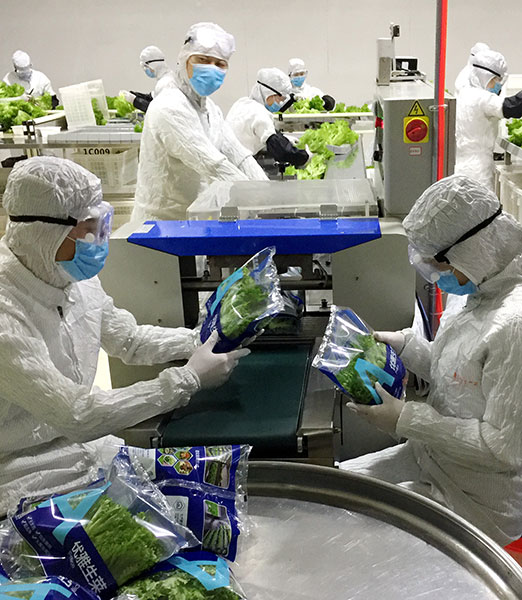 Workers package vegetables at San'an Sino-Science's Photobiology Industry Institute in Anxi county, Fujian province, in April. Zhang Zhihao / China Daily
Vegetables can be grown year-round indoors, in "plant factories" that look a lot like laboratories - without a farm's heavy dependence on water supplies, soil, weather and manual labor.
But plant factories require lots of energy, something that has to change before they can become commonplace, scientists say.
Plant factories do not rely on sunshine. Rather, vegetables are grown in special hydroponic nutrient solutions. All conditions are carefully controlled, and that draws energy.
A plant factory in Anxi county, Fujian province, for example, uses about 10 kilowatts of electricity to produce 1 kilogram of vegetables, according to Li Shaohua, director of San'an Sino-Science's Photobiology Industry Institute. That's about what it takes to power a refrigerator for 20 days, or a plasma TV for 30 hours.
The factory can produce 1.5 metric tons of vegetables a day with 15,000 kilowatts of electrical power.
According to the National Energy Administration, it takes about 315 grams of coal to make 1 kW of electricity, meaning the Anxi growers would need the equivalent of about 4.7 tons of coal a day.
"Almost all of the energy is used to maintain growing conditions, which involves lighting, ventilation and monitoring," Li said. "While the plant factory can greatly reduce environmental pollution caused by fertilizers and pesticides, it is very energy intensive; therefore its carbon footprint is too high."
To tackle this issue, scientists are using solar panels to supply electricity to the factory. They're using energy-efficient LEDs as a light source and aerodynamic interior designs to cut ventilation costs, Li said.
Even so, the overall cost of production at a plant factory is high - and the costs are passed along to buyers, which puts off some potential customers. It costs at least 40 yuan ($5.80) for 1 kg of cabbage from a plant factory. It's about 1 yuan at a farmers' market.
Yet some seem willing to pay. The Anxi company is supplying directly to 130 high-end grocery stores and upscale restaurants in Fujian.
"The province is relatively rich, with a booming middle class, so the demand for fresh and safe food is high," said Lin Xiucheng, founder of San'an Sino-Science. "Our produce is actually in short supply because people are eating more vegetables as they become more health conscious."
But sales of vegetables alone is not enough to cover the costs, so the research team is working on growing rare Chinese medicine, culinary herbs and other plants that have high market value, Lin said.
Not all vegetables are suitable for growth in a plant factory. Cash crops like corn and potatoes require more space than is available in an enclosed environment, and they are not profitable when produced in small volume.
Specialized plants are unknown quantities. Scientists have grown jewel orchids and dendrobium in a lab, for example, but rare herbs that have complex growing conditions, such as Chinese caterpillar fungus, have yet to be grown indoors.