Award-nominated teacher promotes psychological support program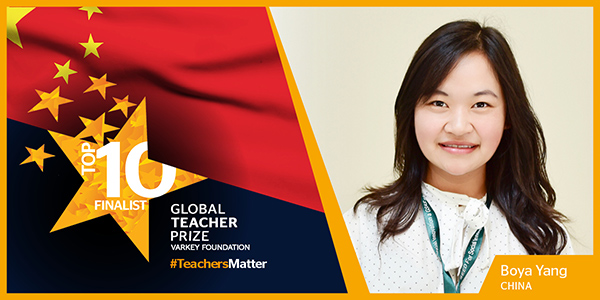 As one of the top 10 candidates for the Global Teacher Prize, Yang Boya attends the Global Education and Skills Forum in Dubai in March. [Provided to chinadaily.com.cn]
As the only Chinese among the top 10 teachers in the world by the Global Teacher Prize, Yang Boya talks to the global audience about her psychological support programs and also about China's education system's positive points and shortcomings.
Yang, 28, a psychology teacher at the Affiliated Middle School of Kunming Teachers College in China's southwest Yunnan province, has set up a center where students can seek professional guidance from psychologists.
"As a psychologist as well as a teacher, I developed support programs with my colleagues for teenagers five years ago," Yang says. "We interacted with many teenagers from different schools as we tried to understand their problems and aspirations."
Yang and her team realize that the values of teenagers reflected the values of their families. "Even when they showed improvement during our program, old habits returned as soon as they went home," she says.
So they begin to develop a training program for parents. "Our program is highly interactive. We use simulation, role play and other experiential activities to help parents not only gain scientific understanding about adolescent development, but also become the kind of parents who empathize with their children and walk alongside them."
"As the programs progressed, we received a phone call from the local government which wanted to collaborate with us to expand and scale up the program. Their involvement brought us more credibility, technical expertise, and resources. It also brought more teachers onto our team," Yang says.
She says students are the first stakeholder in education, parents the second, and government the third. "In order to gain greater influence, we need to expand our reach beyond students and involve parents."
As the first Chinese teacher among the top 10 candidates for the Global Teacher Prize, Yang attend the Global Education and Skills Forum in Dubai in March.