Searching for the food of the future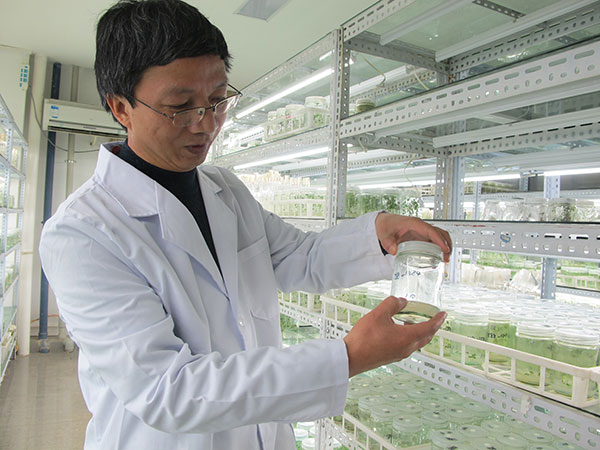 Li Canhui, director of the Root and Tuber Crop Research Institute, displays buds growing in a container.Yang Wanli / China Daily
Ease of cultivation
In the southwestern province of Yunnan, one of China's biggest potato-cultivation areas, more than 90 percent of the land is in mountainous or semi-mountainous areas, making it hard to farm. The ease with which potatoes can be grown has made the tuber a popular food and a major source of income for local farmers.
Statistics from the provincial agriculture department show that Yunnan's annual potato output remained stable during the past decade at about 10 million tons, placing the province among China's top five producers. Since the 1950s, Yunnan's farmers have developed about 70 new potato strains, accounting for 20 percent of new varieties developed nationwide.
Potatoes that are grown commercially are actually clones, grown from tuber cuttings rather than seeds. As the tuber matures, it produces two to 10 buds, known as "eyes", arranged in a spiral pattern around its surface. The buds generate shoots that grow into new plants under favorable conditions. Approximately 300 to 400 tubers, each about the size of a chicken egg, can be grown on 0.06 hectares of land, according to farmer Li Shuyu, who has grown and sold potatoes in Yunnan for more than 20 years.
"Unlike most vegetables that grow from seeds, we need to store the 'mother potato' for next year's planting season. The storage temperature should be strictly controlled at 15 C or lower because if the atmosphere is too damp or the storage temperature is too high, the 'mother's' ability to grow into plants will be killed off," the 50-year-old said.
Constantly cultivating certain strains of "mother potato" on the same patch of land leads to another problem - the potatoes diminish in size every year and the yield per plant falls from about 12 to less than five.
Solutions
The shelves of a lab at the Root and Tuber Crop Research Institute of Yunnan Normal University hold nearly 3,000 glass containers in which tender little buds are growing vigorously. The lab is expected to become the birth place of solutions to the most-pressing problems faced by farmers such as Li.
In September, the university founded the Joint Academy of Potato Science, the country's first scientific establishment dedicated to potato research.
"We are mainly working on potato genomics and using the magic of science to transform traditional planting methods by growing potatoes from seeds, instead of using tubers in the traditional way," said Li Canhui, the institute's director.
There is no easy fix, however, and many problems remain, he said, noting that many potato plants are sterile, so they are unable to produce viable pollen that can fertilize potato flowers and spread their genes.
Moreover, the genomic construction of most commercial potato cultivars - plant varieties produced via selective breeding - results in a breeding cycle of 11 to 13 years for new cultivars. The success rate is just one in 100,000, and repeatedly growing the same cultivar on the same spot for a long time results in lower output and smaller tubers.
The birth of a true 'mother seed' would revolutionize plant breeding, according to the experts. "Traditional planting methods require at least 200 kg of tubers to produce 1 ton of potatoes, but we can grow the same amount with just a handful of seeds," said Li Canhui, adding that he expects the research to yield successful results very soon.
In addition to seeds, the lab is also conducting research into new cultivars that have stronger resistance to disease. Asexual reproduction of potatoes ensures the continuation of desired crop characteristics, but because plants grown this way are virtually identical, they are particularly vulnerable to diseases.
Li Canhui, who has conducted research into potatoes since the 1980s, said the university has been studying the properties of potatoes for 40 years.