Couriers being driven to despair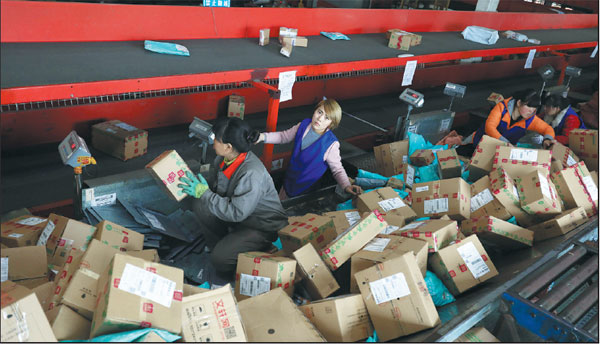 Workers sort parcels at a warehouse in Tianjin, North China.[Photos By Zhu Xingxin / China Daily]
Despite making a massive contribution to China's economy, delivery workers still endure long hours, low wages and poor job security. Hou Liqiang reports.
Wrapped warmly in leather leg chaps, gloves and a Russian hat with ear flaps, Yang Lei appeared well-equipped to survive the winter as a delivery courier in Beijing.
He works seven days a week, but his monthly salary of about 5,000 yuan ($723) - the average for delivery drivers - is chickenfeed given the hours he works for his employer, Tiantian Express, and the contribution couriers make to the national economy.
His pregnant wife lives in an outlying suburb of Beijing, but Yang is usually too tired to travel for more than two hours by subway and bus to return home, so he often sleeps in a house in the downtown that a local agent has rented to use as an office.
When Beijing issued a red alert for air pollution, the highest-level warning, like most of his peers the 30-year-old didn't bother to wear a mask, even though he had to ride his electric tricycle for more than 10 hours a day, exposed to fine particulate matter that can be harmful to human health.
Yang's situation illustrates the difficult conditions endured by delivery workers in China. About 2 million couriers are employed solely by delivery companies, but the number rises if those directly employed by e-commerce platforms are also included, according to a report published by Beijing Jiaotong University, AliResearch, the research arm of the e-commerce giant Alibaba Group, and Cainiao Network, Alibaba's logistics division.