Spring Festival travel rush begins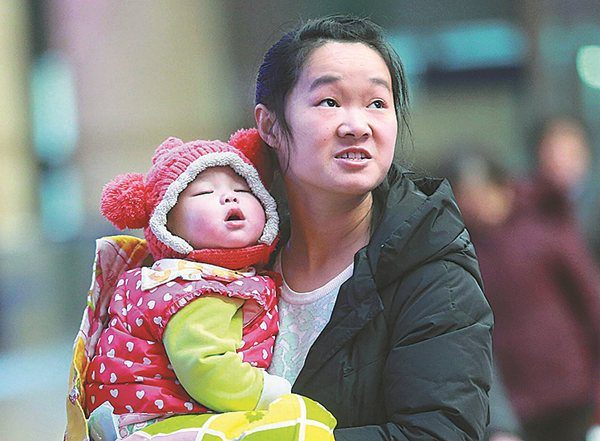 A mother and her baby girl are ready to board a train at Beijing West Railway Station on Friday.
The Spring Festival travel rush started on Friday, ushering in the world's largest annual human migration.
During the 40 day travel peak, 2.98 billion trips are expected to be made, similar to last year's number, according to the government's forecast.
The number includes 58.3 million trips by air, up by 10 percent compared with the same period last year.
On Friday, 8.55 million trips were made on railways, 58 million by roads, 590,000 by waterways and 1.3 million by air across the country, according to the Ministry of Transport.
Meanwhile, 1,672 flight departures and arrivals were scheduled at Beijing Capital International Airport, up 4 percent year-on-year, the airport authority said.
China's flag carrier Air China said it plans to add 1,894 flights during the rush, bringing the total number to 47,078 during the period.
New services are being offered during this year's spring rush to improve passengers' travel experience.
Luo Yong, managing director of Air China's marketing department, said all passengers who depart from the United States and Europe and make transfers in Beijing to other Chinese destinations will be able to pick up their luggage when they reach their final destination.
"Previously, they had to pick up their luggage in Beijing and carry it to go through custom checks before boarding another domestic flight," said Luo.
Meanwhile, several large train stations, such as Guangzhou and Changsha, are using face recognition technology for the first time to speed up passenger identity verification, which was done before by train station staff members who checked train tickets and ID cards.
Now, passengers at those stations only need to stand in front of a camera for a few seconds after putting their ID card and train ticket into a slot at a checkpoint. The face recognition technology will compare the photo it takes with that on the passenger's ID card.
Zhou Chengpei, who experienced the technology at Guangzhou South Railway Station before boarding a train to Guilin in the Guangxi Zhuang autonomous region, described the process as "convenient, fast and cool".
In addition, the Guangdong Provincial Transportation Authority collaborated with Chinese internet giant Tencent to establish a big data analysis and forecasting platform, which is expected to improve the authority's ability to organize and coordinate emergency responses.
In Jinan, capital of Shandong province, three robots are prepared to answer questions about train-riding rules and station activities at Jinan West Railway Station.
"They can answer questions such as how to buy train tickets and how to change the travel date, and help those looking for restaurants or parking lots nearby," said Li Yang, an employee at the train station.
The robots, installed last month, can also entertain passengers. "They dance or wave their hands as requested. They have brought much fun to passengers," he said.
The Beijing Railway Bureau has also opened an online ordering service for some of the trains it operates. With a new mobile phone app, passengers can order dishes, make payments and wait in their seats for stewards to deliver their food.
Shen Peilan, who will take a train from Beijing to Shanghai, said she will try the new service. "I usually travel alone and no one can watch over my luggage when I go to the dining car. That is why I usually skip a meal on the train. But I will try the online ordering this time," she said.
Contact the writers at luowangshu@chinadaily.com.cn